Antal XT Self Tailing Winch Range
Buy Antal XT Self tailing winch for sailing boat and yachts, with free delivery to the UK.

Materials Quality is the greatest goal in our winch design, that's why we aim at creating winches that are strong and light. What characterises Antal winches is: high quality roller bearings, CNC machined aluminum parts, high-resistance alloy toothed crown gears, low friction axels treatments, differentiated drum knurling. More on this in the full article.
Innovation Our winches are created entirely in house. We overview closely the life of our products and this allows us to do something very important: innovating the whole winch family continuously, as we gain experience from the nautical market.
Models available Manual XT winches are available both in the aluminum version and in the chromed version. Powered winches are also available in both finishings, aluminum and chrome. Moreover motors can be electric horizontal, vertical or hydraulic. The XT winch family includes classic winches and top performing Race winches, lighter and stronger.
All winch models are made to be mounted on deck with countersunk head screws (not included). Only exception is the manual Line Driver (mod. 240.010) which needs 3 cylindrical head screws (not included). Number and diameter of required screws is specified for each product.
14 new self-tailing winches available in the following versions:Hard black aluminium(AL): the aluminium drum is hard black anodized and teflon coated, scratch-proof and very hard-wearing.Chrome(CH): the drum, ST disks and ST arm are entirely chrome-plated. All chromed parts are highly polished, thickly nickel-plated and finally finished in chrome.
Simple opening: just unscrew the upper ring to immediately dismantle the winch for an easy of cleaning and maintenance. 
New self-tailing XT system: fixed upper disk with built in ST arm and self-regulating lower disk on springs. The new self-tailing adapts automatically to a wide range of rope diameters and, if overloading occurs, releases the line to avoid excess force on the ST arm.
Knurling: the drum vertical knurling offers maximum horizontal friction allowing the rope "slide" upwards. Differentiated grip (aluminium drums only): minimum friction on the lower part where loads are higher and maximum at the top where loads are minimal: the result is an even grip along the entire drum.
CNC base: machined by CNC (computer numeric control machines) is lighter and stronger than normal castings; aluminium made, hard black anodized and teflon coated. 
Easy removal from the winch makes maintenance a simple affair.
View video
Recommend this product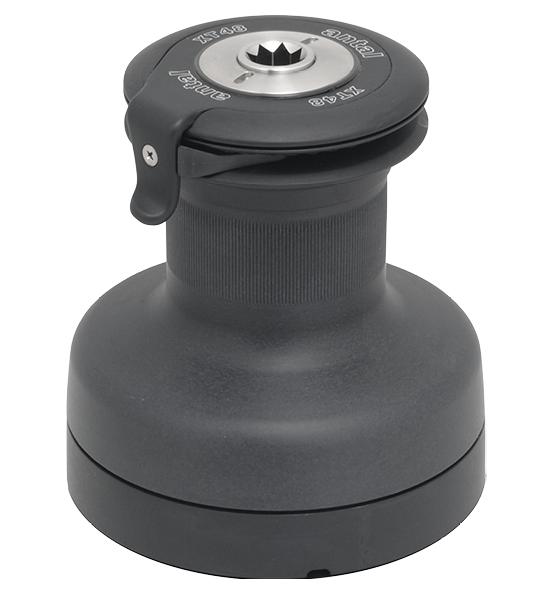 Antal XT Self Tailing Winch Range