Dinghy & Electric Outboard Bundles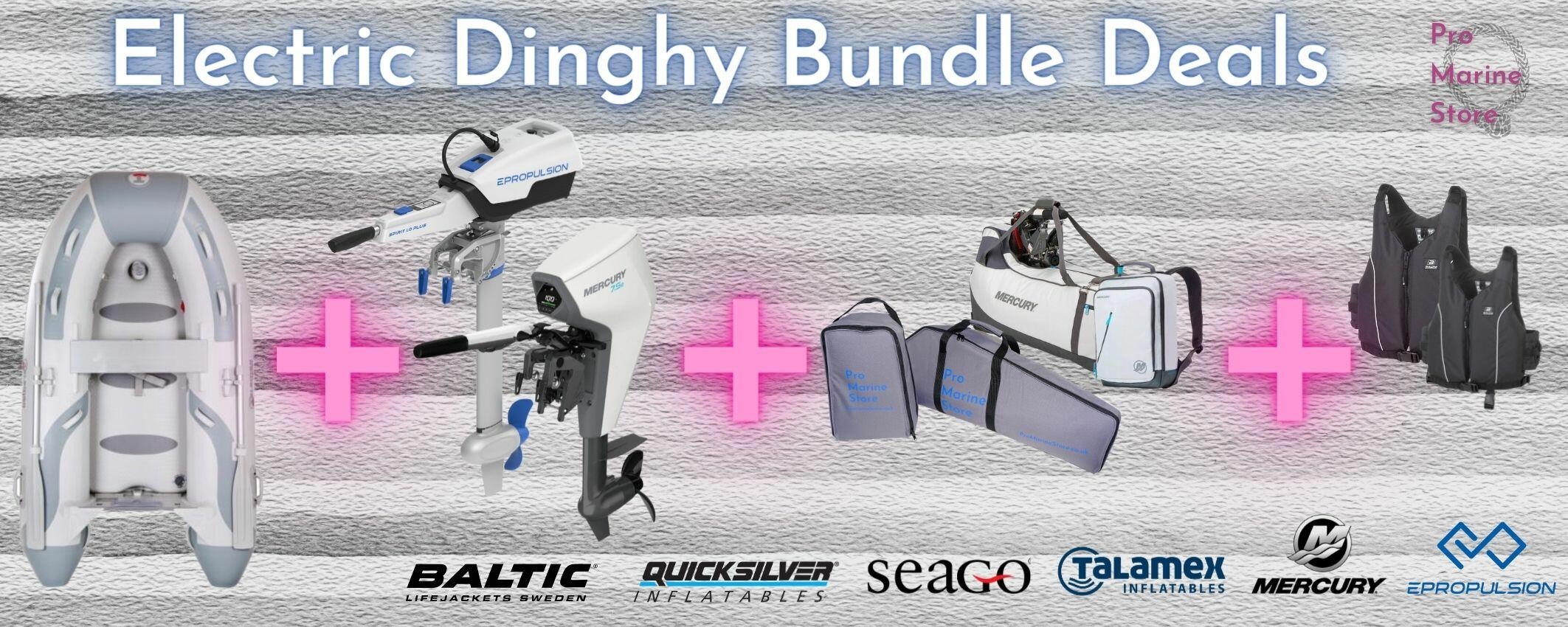 Dinghy and Electric Outboard Motor Bundles.
Our premium bundles include the following high quality dinghy brands:
Once you've chosen your dinghy, choose between the following electric outboard motors:
As part of this bundle, you will receive the following accessories:
The following accessories are also available as bolt-ons to further complete the package:
The perfect companions for a remarkable, silent and stress-free boating experience. Buying as a bundle, you save hugely on overall price whilst also receiving additional free items to further elevate your aquatic journey and complete the package for transporting the motor and safety on the water.
Included in Bundle
High Quality Choice of Inflatable Dinghies.
Choose from an unbeatable choice of dinghies, with solid construction, great convenience and a fantastic user experience with our range from premium brands SeaGo Yachting, Quicksilver and Talamex. These reliable and lightweight tenders are perfect for a range of waterborne activities, including as yacht tenders and for fun on the water for all the family. Designed for versatility and user-friendliness, these dinghies are your gateway into exciting aquatic adventures. Our chosen dinghies offer you a range of price-points, but all are chosen to be of outstanding quality and construction, with great warranty periods from proven brands.
ePropulsion Spirit 1.0 Plus or Evo Electric Outboard Motor.
The ePropulsion Spirit 1.0 Plus Electric Outboard Motor redefines electric propulsion with its exceptional performance, reliability, and eco-friendliness. This motor is a proven and highly awarded true game-changer, offering long range from LFP battery technology while remaining silent and emission-free, with no annual servicing required.
Mercury Avator 7.5e Electric Outboard Motor.
New to market for 2024 from one of the globally best-regarded petrol outboard manufacturers. This beautifully and intelligently designed motor has a huge number of features included, with premium materials used throughout and a very solid well thought out mounting bracket. This motor positions itself as a high-premium choice, backed by Mercury's outstanding service and warranty promise, a huge R&D budget and benefits drawn from their long history in the petrol outboard market.
Premium Bag Set for Your Motor.
Enhance your boating experience and benefit from buying through our bundle deal. Receive a Premium Bag Set specially designed for your chosen outboard motor as part of the bundle package. This accessory set offers convenient storage and carrying solutions and ensures that your motor is well-protected when not in use, in your car's boot, or your boat's lazarette or locker.
Receive Two Free Baltic Buoyancy Aids.
Be ready for the water right away with two free premium Baltic buoyancy aids. These are the most premium buoyancy aids money can buy from Swedish brand Baltic, made with premium quality materials. Let us know the sizes you'd like, by referring to the sizing guide on the product listing here.
Free Delivery to UK Mainland*:
We understand the value of a seamless shopping experience. With our bundle, you also enjoy the added convenience of free delivery to the UK mainland, making the process even more hassle-free.
*Scottish Highlands delivery cost of £30 applicable