EcoFlow
Buy EcoFlow Products including the NEW Eco Flow Portable Electric Power Station online, for electricity off-grid, on your boat off-shore, camping, and self-sufficient life in nature! Free delivery to the UK.
EcoFlow was founded in 2017 by entrepreneurs who emerged from a leading drone developer where they had worked to perfect the drone battery to be lightweight, long-lasting and, most importantly, powerful.
Now, EcoFlow leverages this knowledge and experience to build Large Portable Power Station products that are thoughtful in design, creating industry-first, smart and powerful energy storage products. These include the River EcoFlow, and the Delta EcoFlow. EcoFlow Portable Power Generators strive to reinvent the way people everywhere access power.

EcoFlow's product lines equip the consumer with an industrial amount of clean, quiet and renewable power for life adventures, work and home backup power.
"Our mission is to empower people and communities through portable, clean, reliable power for lasting impact by dethroning the traditional gas generator and reinventing the way the world accesses energy.
We harness new technologies to foster inclusion and help raise standards of living in areas of the world where power shortages stunt economic growth and development."

60% of our customers use EcoFlow products recreationally
Boating, Sailing, bluewater adventuring backup power solutions

Van Life off-grid to generate electricity for everything you own
Camping/Outdoors to power a fridge, hairdryer, lights, coffee machine etc
Festivals where you need electrical power over many days, due to high capacity batteries
57% of our customers use EcoFlow products for emergency situations
Disaster Relief, powering electrical products like drills, computers etc
Home Backup as a emergency electrical backup powerstation product
Medical Devices, powering anything you traditionally plug into the wall
30% of our customers use EcoFlow products professionally
Film/Photography - lights and electrical products needing mains power
Drones - recharging many many times
Event Production - technicians needing power for their tools etc
Business Travel - laptop and even desktop computer power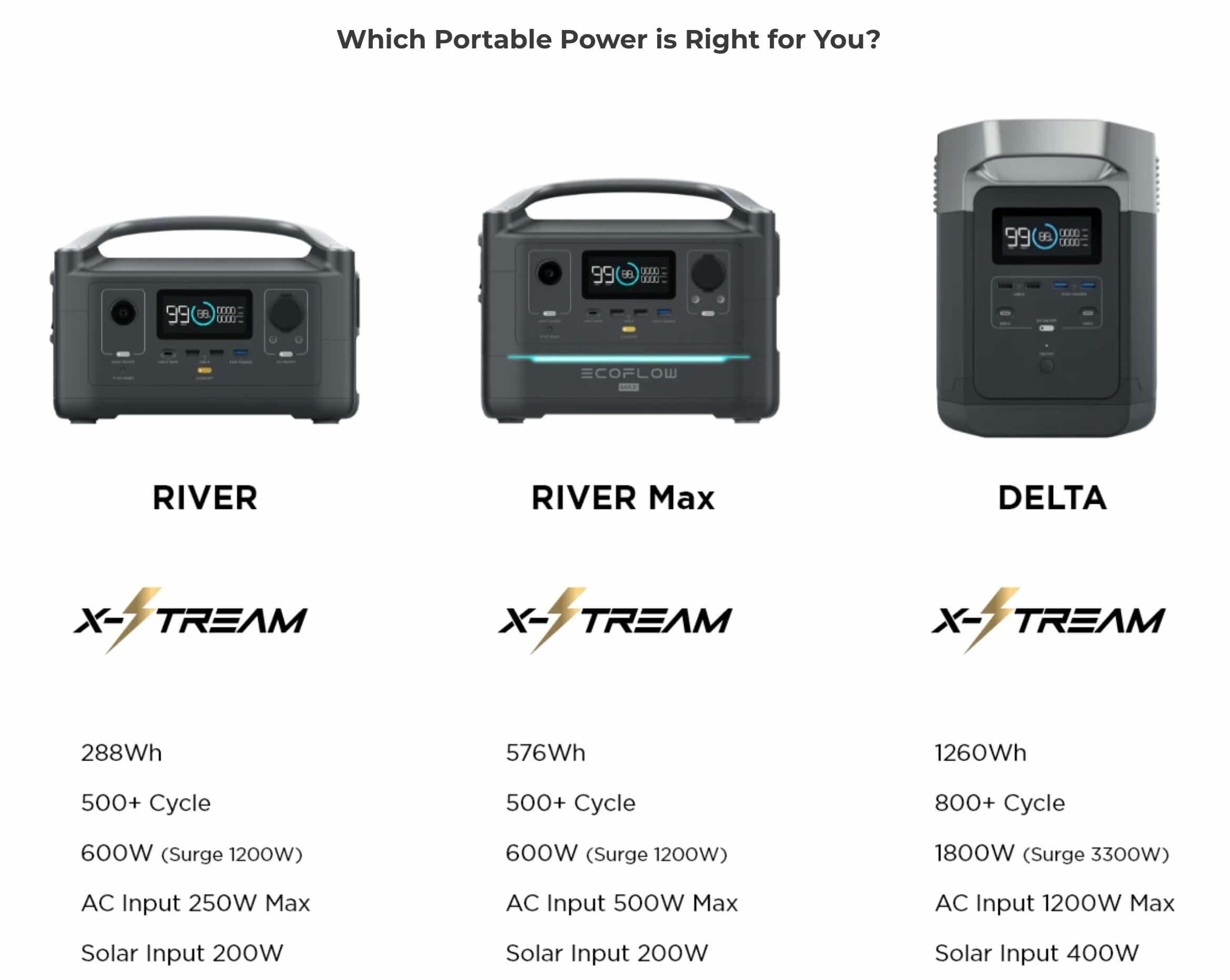 EcoFlow are the World leaders in making high capacity portable power station products, which are able to power almost anything you'd normally power from mains electricity. Rapid recharging rates mean you can recharge the EcoFlow Delta and EcoFlow River Max in the sun via their solar panels, which are waterproof and come in a handy carry case folio design, for handy electrical power wherever you are. Read our EcoFlow News Story here!