EcoFlow Delta Portable Electricity Powerstation
EcoFlow DELTA Large Portable Power Station. 
This is the EcoFlow DELTA Large Portable Power Station with free delivery to the UK.  
Buy this incredible Lithium Portable Power Generator for green electricity production. 
Generate AC power and DC power, whilst off-grid on your boat or yacht, and recharge with Solar. 
Welcome to the future of off-grid power generation from EcoFlow Products.  Meet the new generation of Lithium powered electricity storage, generation and output products from EcoFlow.  Buy online, UK, for an off-grid solution to powering ALL your devices.  Think, phones, ipads, kettles, microwaves, vacuum cleaners.
Pro Marine Store is a supplier of EcoFlow Delta products in the UK for the marine market.  We sell to boat owners that want a solution to off-grid portable power generator without using fossil fuels.  Simply attach the accompanying solar panels for a rapid charge of the EcoFlow delta's lithium batteries.
EcoFlow DELTA battery-powered generators
EcoFlow DELTA Large Portable Power Station represents the new standard of battery-powered generators. Compatible with a wide range of devices, you can stay powered for hours whenever and wherever. 
RECHARGE 0%--80% WITHIN 1 HOUR EcoFlow patent X-Stream Technology empowers EcoFlow DELTA to recharge at 10 times the speed of most portable power stations in the market 
4x 1800W AC OUTLETS & 1260Wh CAPACITY The large inverter load enables EcoFlow DELTA to power most home appliances and heavy-duty DIY tools under 1800W (3300W Surge, Pure Sine Wave) with 1260Wh capacity
FASTEST RECHARGE BY SOLAR AND CAR EcoFlow DELTA can be fully recharged by solar panels in about 4 hours, and fully charged through a 12/24V car port < 10 hours.
POWER 11 DEVICES SIMULTANEOUSLY EcoFlow DELTA fits with every port you'll ever need to power any devices anywhere, so you will always feel right at home.
View video
Recommend this product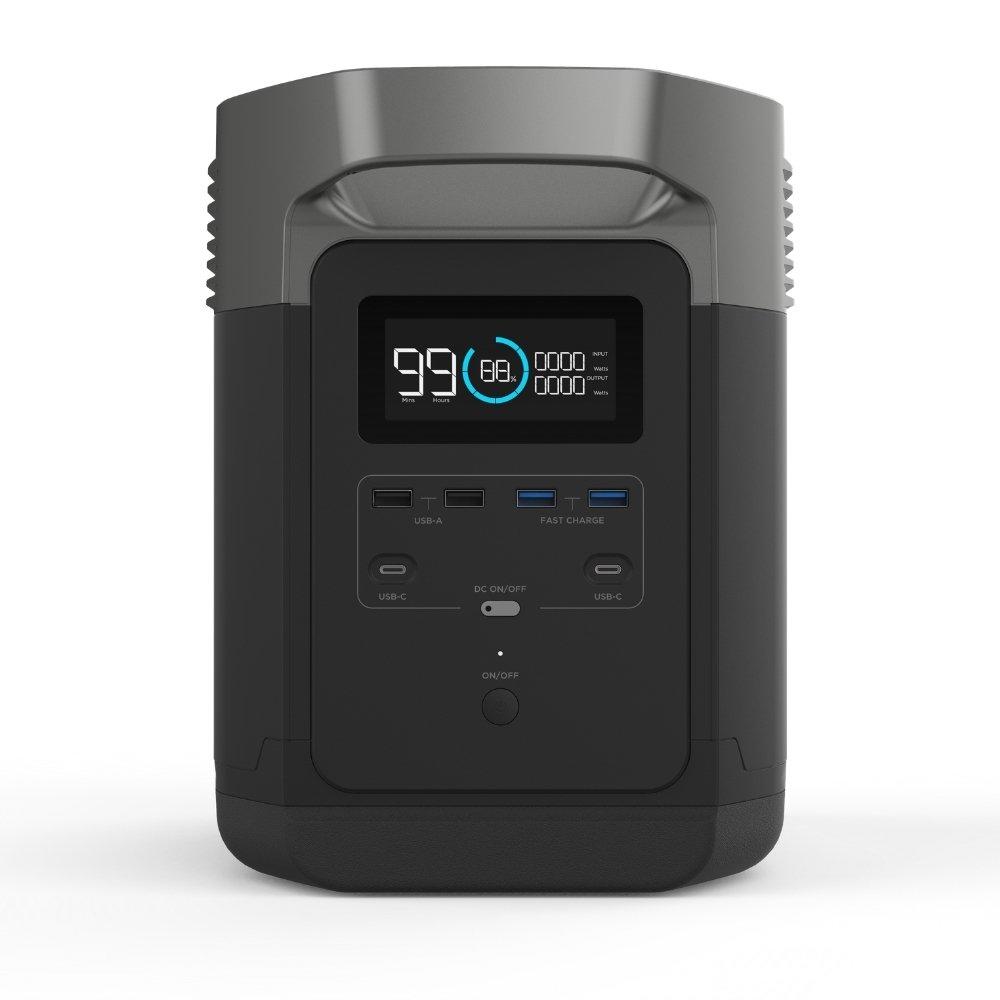 EcoFlow Delta Portable Electricity Powerstation