Efoy Comfort 210 Fuel Cell
Buy the Efoy Comfort 210 and see why so many sailors, boaters and caravaners find a methanol fuel cell the perfect solution to their off-grid electrical needs.  Free UK delivery on all orders at Pro Marine Store.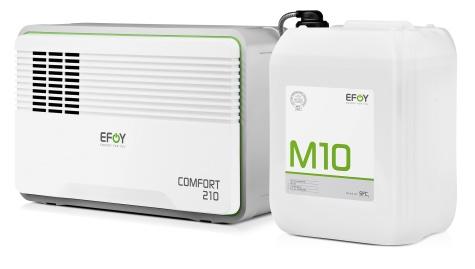 Weighing just 8.5 kg, the EFOY COMFORT is extremely lightweight and so compact that you will always find space for it in your motor home or boat. It delivers a vast amount of energy yet takes up very little space.
The EFOY COMFORT 210 is a 105W fuel cell providing 210Ah per day at 12V DC.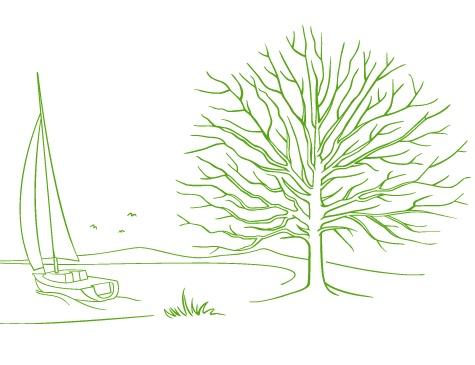 Can be used all year round
With the EFOY COMFORT, you have a reliable electricity supply when you are on the road or at sea. Irrespective of the weather and all year round - even at sub-zero temperatures.
Quiet
When the EFOY COMFORT is installed as recommended, you will almost hear nothing. Our advanced insulation and the sound damping system ensure quiet operation.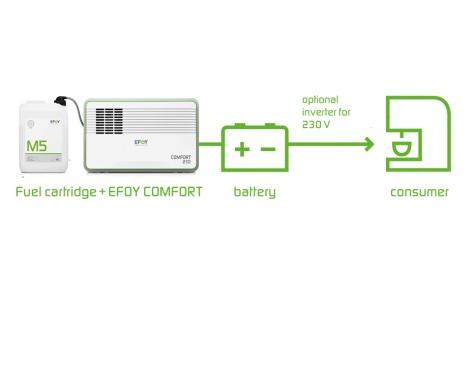 Fully automatic and maintenance-free
Your EFOY COMFORT supplies electricity as soon as all connections are properly made. All you have to do is to make sure that fuel is always supplied. Additionally, the unit requires no maintenance.  EFOY Pro fuel cells supply off-grid power for months – without any user intervention. Efoy fuel cells use methanol – an alcohol with an extremely high energy density. Ten litres of methanol contain 11.1 kWh of energy. Two 28 litre fuel cartridges can power a 25 W device autonomously for about 15 weeks. Maintenance of the EFOY Pro fuel cells is not required.
Eco-friendly
The EFOY COMFORT is economical in use and extremely eco-friendly, emitting only a small amount of water and heat.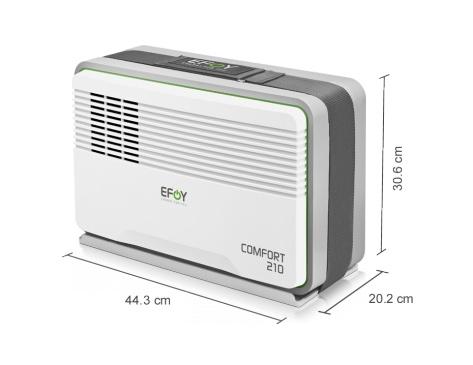 Lightweight and compact
Thanks to its compact design and low weight the EFOY COMFORT will easily fit into a convenient space - in the rear storage compartment, the side compartment or under the seats.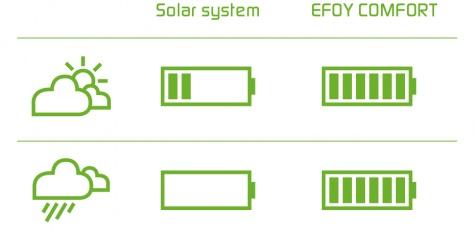 Comparison to a solar panel
Over the period of one year, EFOY COMFORT provides 3 to 10 times as much electricity as a solar system with the same power rating. To produce the same amount of electricity as an EFOY COMFORT 80 (40 W) with solar power, depending on the country and time of year, you would need a solar system with an output of between 120 and 400 Wp.
The set includes:
White operating panel with surface mount and data line DL2
Mounting plate
Fuel cartridge holder
Mounting belt
Belt for fuel cartridge holder
Service Fluid
Off heat tube
Off-heat bow, External face plate, Off-heat flange, Screw set
Charge line CL4
Insulated exhaust hose
User manual
Specifications
Power Output: 105W
Output Voltage: 12VDC
Output Current: 8.75A
Noise Level at 7m: 25dB
Warranty Period: 2 years
Fuel: Methanol
Technology: DMFC
View video
Recommend this product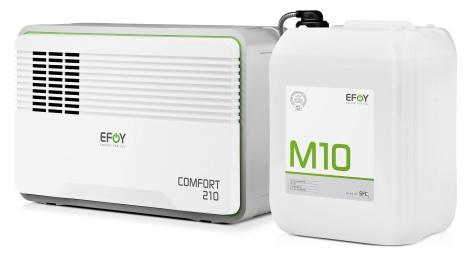 Efoy Comfort 210 Fuel Cell