Efoy Comfort Range Accessories
Buy the Efoy Comfort and and accessories to see why so many sailors, boaters and caravaners find a methanol fuel cell the perfect solution to their off-grid electrical needs.  
Find all the accessories you may need here for the Comfort range of Methanol Fuel Cells, with free delivery to the UK
Notes on each accessory:
SFC EFOY Bluetooth Adapter
To control your EFOY COMFORT with the free EFOY app, you will require the latest version of the app, the most recent firmware for your fuel cell and the EFOY Bluetooth adapter. The EFOY adapter communicates with the EFOY app via Bluetooth once connected to your EFOY COMFORT and sends you all important data, directly onto your mobile device. The EFOY Bluetooth adapter is compatible with every EFOY COMFORT fuel cell.
Extension cable for Sense line 8m/26ft
Extension cable for "Sense" line;
Length: 8 m / 26 ft
Insulated exhaust hose
The insulated exhaust hose (1.2 metres long) runs from the fuel cell, taking the water vapour and a small amount of carbon dioxide emitted by the unit, out of the installation space.
SFC EFOY Charge Line CL4
Charge line CL4 is used to connect the EFOY  to the battery.
Includes:
Connecting line to fuel cell (1m)
Sense cable with 2A fuse
Power cable with 15A fuse
SFC EFOY COMFORT Mounting Belt
Belt for mounting the EFOY COMFORT onto the mounting plate.
SFC EFOY Fuel Cartridge Belt
Belt to secure the fuel cartridge to the fuel cartridge holder
SFC EFOY Fuel Cartridge Holder
Fuel cartridge holder for M5 and M10 fuel cartridges.
SFC EFOY Operating Panel
Available in Black or White
View video
Recommend this product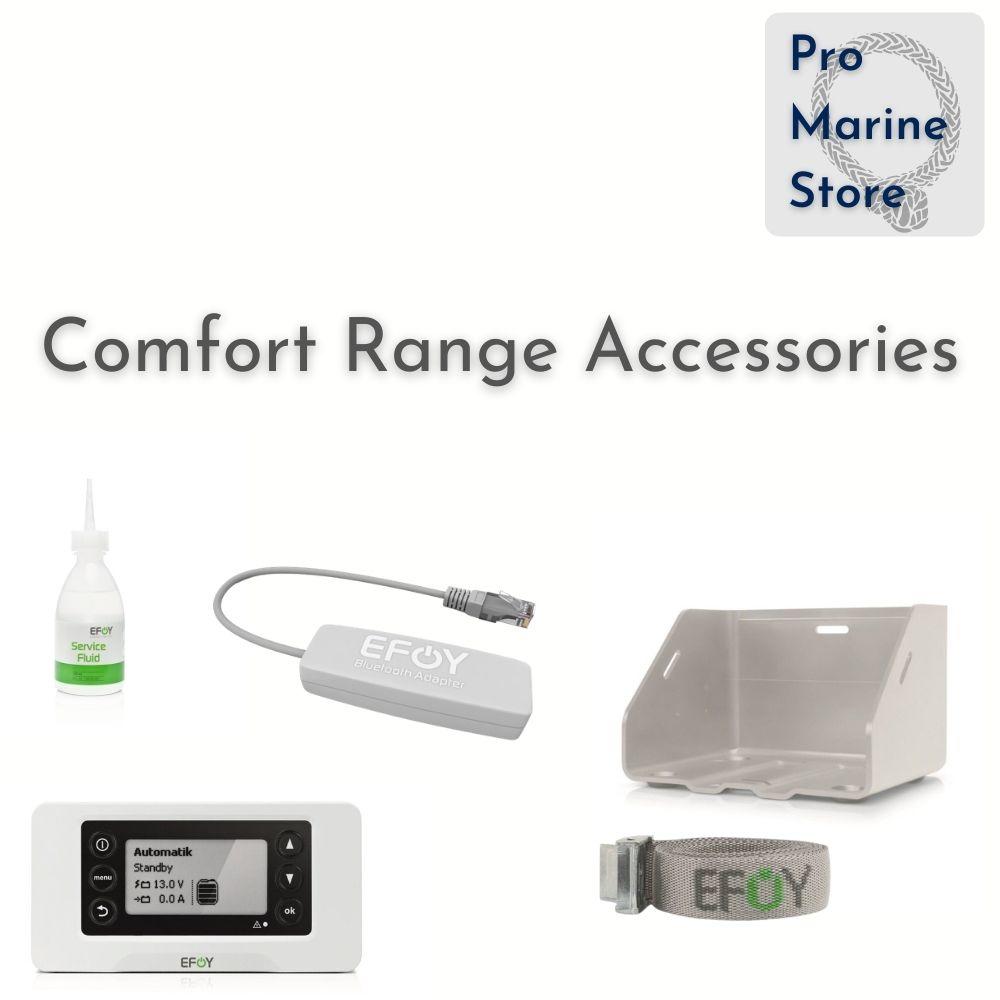 Efoy Comfort Range Accessories