EFOY Methanol Fuel Cartridges
Buy Methanol fuel cartridges for Efoy Fuel cells as methanol refills for generate electricity aboard your sailing boat or yacht, with free delivery to the UK. 
Autonomous power with EFOY fuel cartridges
EFOY Pro fuel cells are direct methanol fuel cells that are operated with the fuel methanol. The methanol is stored in EFOY fuel cartridges that have been designed especially for this purpose. They were especially designed to be used with the EFOY fuel cells, and they can be replaced easily and cleanly within seconds. Depending on your needs, EFOY fuel cartridges are available in 5, 10, 28 and 60 liter sizes. Simply adapt the size of your fuel cartridge to your autonomy requirements.
The highest quality standards
Ultra-pure and clean methanol is required for the reliable operation of EFOY Pro fuel cells. To ensure compliance with the strictest safety standards, each filling operation is supervised by SFC quality management. Only when original EFOY fuel cartridges are used, can the maximum operating life of the fuel cell be guaranteed. The high energy density of methanol provides a lot of energy in a very small space with EFOY fuel cartridges. As a result, the autonomy of your off-grid application can be increased many times.
Recommend this product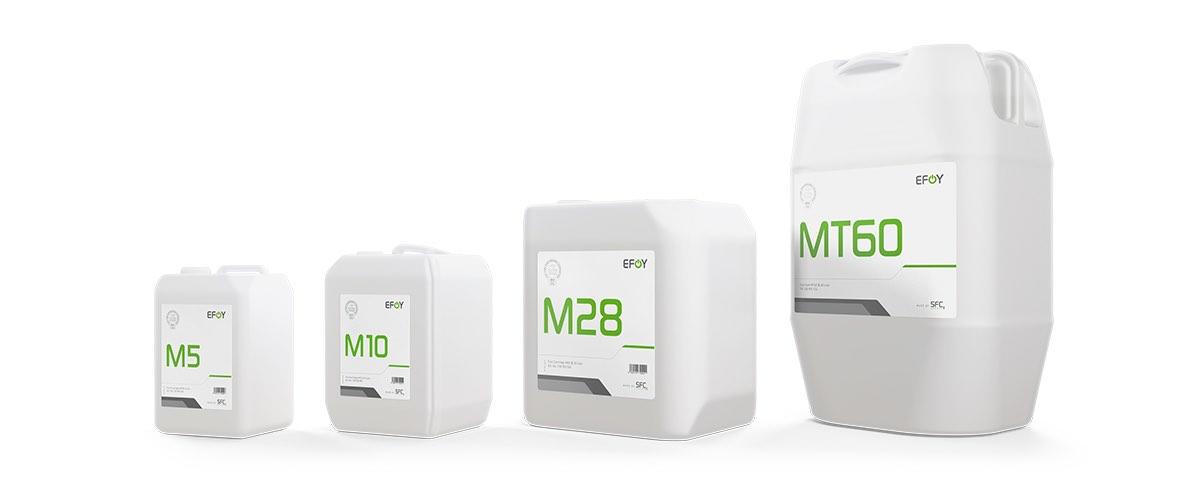 EFOY Methanol Fuel Cartridges