Internet On Board - 4G and Wifi
More and more boaters want access to internet afloat. Marinas and ports as well as a large number of cafes, hotels, restaurants and service providers offer WiFi connectivity but you may just miss that vital connection if you're moored or anchored away from the dock. Internet access afloat really adds to boating.
Not only can you keep abreast of news and email, but it's a great source of entertainment, TV and media when allowing you take advantage of the latest entertainment services such as Netflix and Spotify. It can also be used to download the latest weather information. Free GRIB files are available to integrate with PC navigation programs to provide animated weather forecasts with wind, swell, pressure and temperature information.
On board internet connectivity can also help to entertain children and family when undertaking long passages. The ability to stream their favourite movies or TV shows through numerous entertainment platforms can make those long journeys that little more entertaining.
Whilst on board, you can access the internet through 3G/4G systems, WiFi and satellite. Digital Yacht make a range of high power WiFi systems (WL510, WL60) which offer easy and cheap data access with ranges of up to 5NM. WiFi is cheap, global and fast and for many coastal sailors, it's ideal. Satellite provides a trans-ocean solution but at a high price and substantial running cost. The WL510 will integrate with your on board PC system to provide internet access.
The Digital Yacht alternative 4G Connect system can provide low cost, reliable 3G/4G connectivity up to 20NM from shore which fulfils 99% of the recreational boating industry's requirement. It uses MIMO (multiple in/out) technology with dual antennas to deliver enhanced speed and range. It can also connect to another internet source (e.g. hi power WiFi or satellite) and switch between the connections. It creates a local WiFi (or wired) network on board for other devices to connect.
HOW TO INTEGRATE OUR PRODUCTS TOGETHER?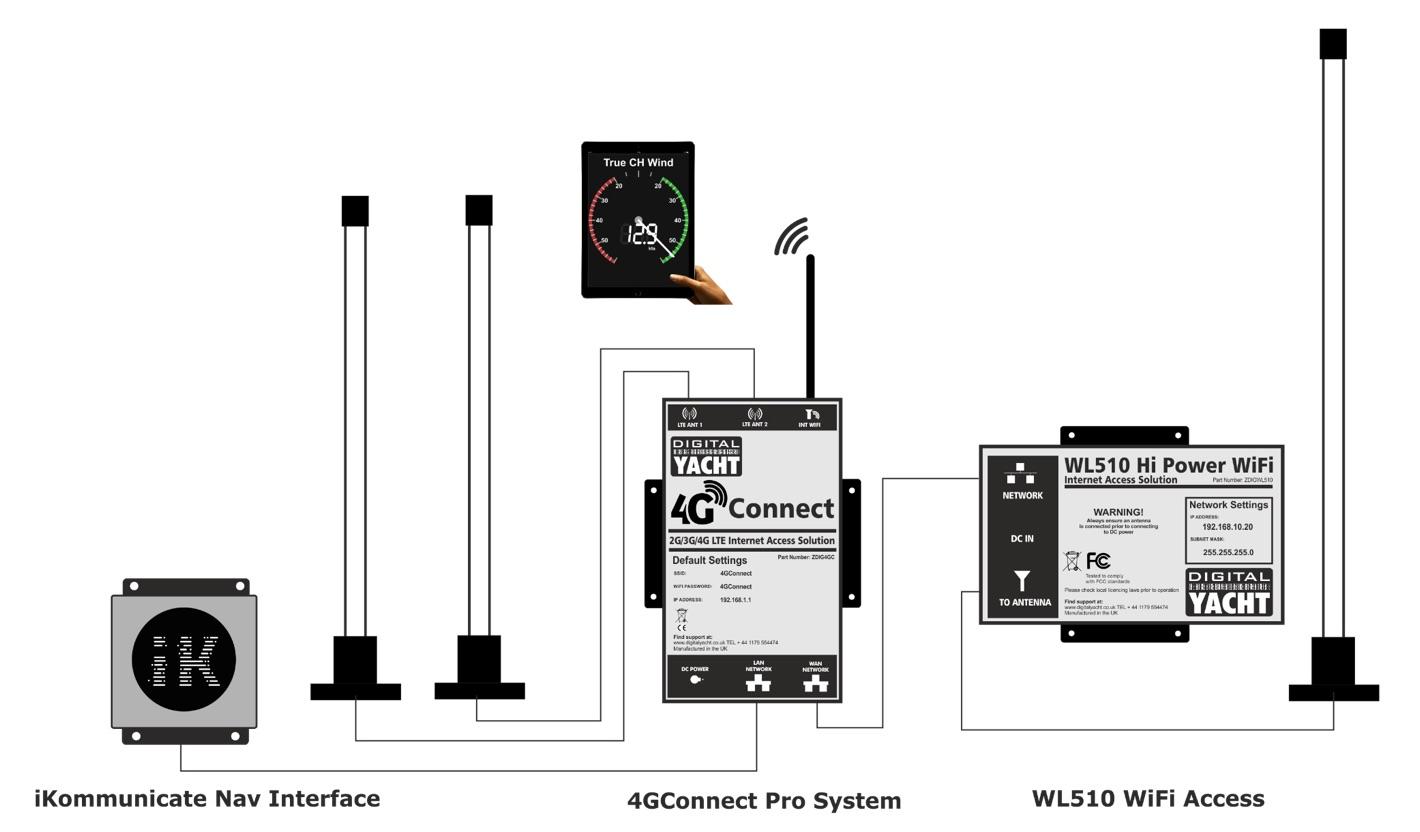 4G Connect has a WAN and LAN port so you can connect the WL510's Ethernet cable to the 4G Connect modem. This allows the 4G Connect built-in WiFi router to share an internet connectivity from both LTE (4G) and WiFi hotspot.
By also connecting iKommunicate's Ethernet cable, our universal NMEA0183, 2000 and Signal K interface, to the 4G Connect modem's LAN port, the 4G Connect built-in WiFi router will also provide boat NMEA navigation, instrumentation and engine data on the WiFi network for use with navigation apps.
By integrating together 4G Connect, WL510 and iKommunicate, this solution provides under the same WiFi router an internet connectivity through 4G and WiFi hotspot but also all the navigation data for use with navigation apps and software.