Life Jacket Rearming kit - SeaGo
Buy SeaGo life jacket rearming kits for inflatable life jackets at Pro Marine Store. 
We stock re-arming kits for all SeaGo life jackets.  Please be careful to choose the correct kit from the listed items, or alternatively call us and we will be happy to point you in the right direction!
Please note, the photos below are of a selection of re-arming units; the unit you receive may look slightly different according to lifejacket requirements
Please note also that a specific delivery charge is applicable to these products due to compressed gasses shipping.
| Kit Number | Inflation Type | Brand | Compatible With |
| --- | --- | --- | --- |
| | | | |
| 1 | 20g | UML | Junior 100 |
| 2 | 24g | UML | Junior Waveguard 150 |
| 3 | 33g | UML | 150n to 175n |
| 4 | 33g | UML | 150n to 175n, MOB Sling |
| 5 | 33g | Hakley Roberts | 165n |
| 6 | 38g | UML | 180n to 190n, Danbuoy |
| 7 | 38g | UML | 180n to 190n, Horseshoe Buoy |
| 8 | 38g | UML | 180n to 190n |
| 9 | 38g | Hammar | Active 190n |
| 10 | 38g | Hammar | Dynamic 3D 190n |
| 11 | 60g | UML | 275n to 305n, 3-in-1 System |
| 12 | 60g | UML | 275n to 305n |
| 13 | 60g | Hammar | Active 300n |
| 14 | 60g | Hammar | Dynamic 3D 300n |
| 15 | 38g | UML | Active 190n, Dynamic 3D 190n |
| 16 | 60g | UML | Dynamic 3D 300n  |
| 17 | 24g | UML | Junior Waveguard 150n |
Recommend this product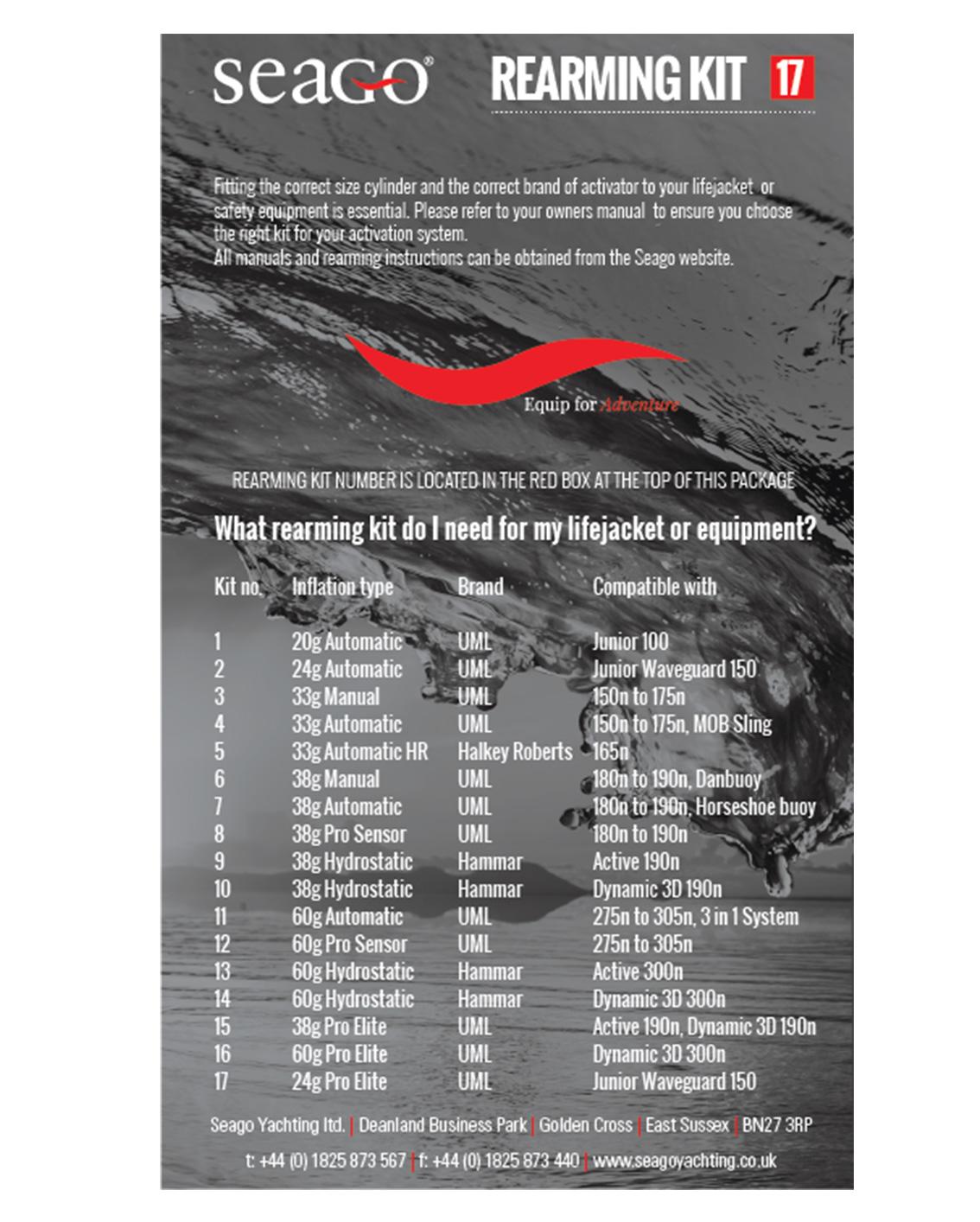 Life Jacket Rearming kit - SeaGo