Lifos 12v Lithium Battery Range
The LiFOS Lithium Battery is an advanced battery using the new premium in lithium battery chemistries - Lithium Iron Phosphate (LiFePO⁴)-which delivers reliable and safe power in virtually all conditions.
Perfect for voltage sensitive and high cycling applications including leisure, commercial and off-grid renewable energy installations.
68Ah Lithium is equivalent to a 120Ah Lead acid battery
105Ah Lithium is equivalent to a 200Ah Lead acid battery
As the flagship in the Lifos range, the Lifos 105 is the only choice where maximum power, minimal weight and longest cycle life are critical. Whether used to power electric marine equipment or in large RVs, off grid properties, for on location audio visual equipment power, powering emergency "blue light" equipment or in commercial applications such as road signage, the Lifos 105 provides quick charging reliable power in all circumstances.
Long Life 
LiFOS has a 5-year warranty and its integral Battery Management System (BMS) guarantees its Depth of Discharge (DOD) does not exceed 90%, thus ensuring that LiFOS gives no less than 2750 charge and discharge cycles. If LiFOS is only partially discharged to 50% of its capacity, for example the number of times it can be charged and discharged jumps to 5000 (+13yrs)
The Lifos 105 provides an amazing 2750 charge / discharge cycles with a 95% depth of discharge giving a usable battery capacity of 99.75Ah. To replace this a 200Ah lead acid battery would be needed but instead of weighing in at nearly 60kgs, the Lifos 105 is a featherweight 11.9kgs.
Depth of Discharge (DOD)
All batteries have a DOD. It's typical to expect a battery using lead acid and gel compounds to give a 50% DOD. This means if, for example, such a battery is rated at 100Ah, it will only provide usable power of 50Ah. LiFOS has a 90% DOD, providing 61.2Ah of usable power, which means that to replicate the available power provided by LiFOS, a +120Ah lead acid or gel battery would be needed.
Lightweight
LiFOS is a featherweight 7.8kg.  When compared to a good quality 120 Ah lead acid battery at circa 34kgs, LiFOS gives and impressive 77% weight saving.
Battery Management and Communication System
LiFOS has uniquely designed hardware/software integrated into each battery which allows it to:
Operate heavy loads up to 1000w

Protect the battery from deep discharging

Enable it to be charged by any mains charger (not just a special lithium charger)

Speed up charging times, whether being charged by mains or solar

Provide users with a unique view of the charge and discharge performance of their battery on a smartphone via a simple-to-understand Android / Apple App. This free App provides extremely accurate information - generally far more so than a typical analogue battery meter. The App, once connected to a smart device, will also send users a reminder to put their LiFOS on charge once it has been discharged to 30% thus further prolonging its life.
***This item can only be delivered to mainland UK*** 
Recommend this product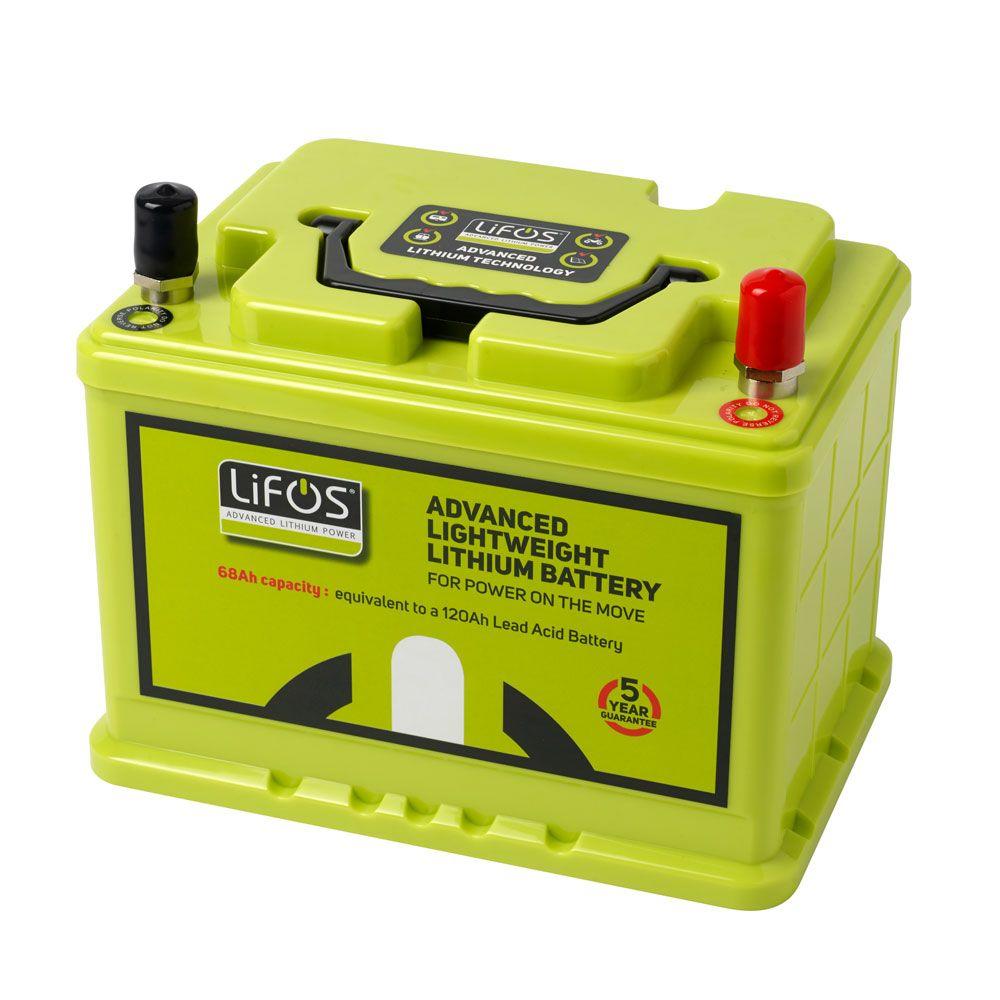 Lifos 12v Lithium Battery Range