Lopolight 2nm 360° White, Anchor, Strobe Light Series
The ultimate Anchor light solution for vessels 12-20m
Since the start of the LED revolution in the early 00's Lopolight has been supplying LED navigation lights to sailors around the world with the promise of 'fit 'n forget'.
Today Lopolight is firmly established as a leader within navigational lighting worldwide, with both the products and the company matured and robust, we stand ready to service your every need within this sector.
New generation
LED (Light Emitting Diode) navigation light.
Unique and precise definition of light angles.
Rugged and unbreakable: Precision machined anodised aluminium housing protects the LED's and electronics.
Completely waterproof and vibration-proof: Interior is fully filled and sealed with special potting resin.
Waterproof to IP 68+ (submersible).
Low power consumption – 70 to 90% less than traditional navigation lights.
Full brightness with input voltages ranging from 10 to 32 Volts.
All Lopolights have been tested several times during production, a total of more than 24 hours.
Easy to install, screws included.
| | |
| --- | --- |
| Approvals | Worldwide type approval (please refer to certificates on Lopolight.com) |
| Included in package | 1 Navigation light pre-cabled with 0,7 meter shielded marine grade cable, 1 K-Lock PE mounting base, Installation guide |
| Measurements | Light: Ø: 92,5 mm (3,64 in) – H: 45,0 mm (1,77 in) – W: 424 gram (15 oz)Mounting block: Ø: 92,5 mm (3,64 in) – H: 24,0 mm (1,14 in) – W: 148 gram (5 oz) |
| Materials | Anodized aluminum 25µ, PMMA lens, A4 stainless steel screws, Epoxy, Polyurethane. |
| Supply voltage | 10,0 – 32,0 VDC |
| Power consumption | 1.8 Watt, Current @ 12 VDC: 0,15 A: Current @ 24 VDC: 0,07 A |
| Light colours | White, Strobe as selected |
| Intensity | >5.4 cd |
| Visibility (@K=0.8) | 2 nm |
| Number of LEDs | 28 |
| Suggested feed cables12 VDC: | 12 VDC: 2 x 0,50 mm2 (maximum outer diameter 7mm), 24 VDC: 2 x 0,50 mm2 (maximum outer diameter 7mm) |
| Vessel size | up to 50 meter (164 feet) |
| Mounting | Horizontal |
For additional documentation, including installation guides, please click here
Recommend this product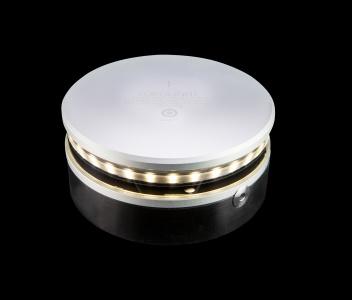 Lopolight 2nm 360° White, Anchor, Strobe Light Series