Mega Filler Smooth 4L pack
"Buy Bilge Paint 2.5L with Free Shipping to Mainland UK."
A two-pack epoxy filler with good sanding properties, strong adhesion, and good resistance to mechanical impact, solvent & water ingress.
Suitable for many substrates including steel, aluminium, composites and wood.
For use above and below the waterline.
Available in a 4 litre pack, in a finished colour of light buff.
Specification
Application method

    

Trowel, pallet knife, filling blade etc

Drying time @ 23 C

    

13 hours

Dry to overcoat at 23 C, minimum

    

5 hours

Dried/cured for service @ 23 C

    

7 days

Pot life

    

45 minutes

Cleaning solvent

    

Jotun No 17, or SML Epoxy thinner
Recommend this product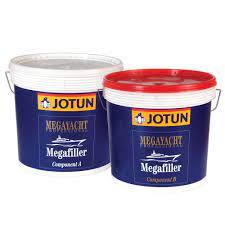 Mega Filler Smooth 4L pack