Rutland 914i Windcharger Wind Generator
Buy the Rutland 914i Windcharger Wind Generator for Sailing boats and Yachts Online, UK. 
Rating: 140 W in a 11 m/s (24.6 mph) wind.

Rating Max: 262W

Voltage: 12 or 24 volts DC.

Rotor Diameter: 0.91m

Cut In Windspeed: 3.1 m/s (6.9 mph)
Designed for marine use and for use on narrowboats.
The Rutland 914i builds on the success of the Rutland 913, utilising Maximum Power Point Tracking (MPPT) technology to perfectly match the generator performance to the turbine speed achieving a higher efficiency and thus more power generation. This innovation has enabled the Rutland 914i to retain the compact diameter of the 913 whilst being capable of capturing up to 30% more energy.
Rutland Charge Controllers
HRSI Regulator
Uses Pulse Width Modulation (PWM) to protect battery from overcharging by tapering charge as battery becomes full and reducing the Windcharger speed. Includes LED indicators for charging status and battery voltage. Also includes facility for connection of up to 160W of solar. Features windcharger shutdown switch.
Pulse Width Modulation (PWM) regulation is now more finely controlled using the latest programmable microcontrollers

The HRSi monitors battery voltage and uses PWM to prevent overcharge.

As peak voltages are reached the HRSi regulates the current from the wind & solar chargers gradually reducing the charge to float stage level.

This feature gradually reduces the speed of the turbine to an eventual "idle" thus extending the working life of the windcharger.

As the battery discharges the wind turbine responds by increasing speed to deliver more power.

Solar power is also tapered in the same way.

Intelligent Microcontroller system is programmed to deliver bulk and float phase charging.

This feature ensures that batteries are optimally charged, especially when unattended.

LED indicators keep the user informed about battery voltage levels and charging status

The HRSi regulator can charge a single bank of batteries at either 12 Volts or 24 Volts.

Manual shutdown switch allows the user to stop the wind & solar chargers from delivering power to the battery if required.

The windcharger slows to a "idle" in this mode.

Easy to connect terminals to interface windcharger, solar panels & battery connection in one.

Temperature compensation automatically adjusts the settings of the regulator to take account of varying temperatures thus ensuring maximum charging efficiency in all conditions.

Built in blocking diode avoids conflict with other charging sources to the same battery. (See note 1 below)

Automatic voltage detection for 12 Volt or 24 Volt systems. (See note 2 below)

Built-in charge fuse protects the wiring circuit in the event of accidental reverse polarity connection. (See note 3 below)
HRSi Installation: 
1. Solar panels must be fitted with diodes 
2. Batteries must be connected first for auto voltage detection and setting  
3. Care should be taken when connecting the HRSi, as with all electrical devices, reverse polarity connection will cause damage to the HRSi.
HRDI Control Unit
Wall mounted unit allows simple & straightforward installation. Includes PWM charge regulator; both Windcharger & solar panel (max. 160W) inputs; dual battery output & selectable digital LCD display to show wind generator current, solar current, net charge current, battery 1 voltage & battery 2 voltage. Wind generator shutdown switch.
Clear alpha-numeric digital LCD screen with user display options

Connectable to two independent battery banks

Priority charging of the lowest battery

Push button activated and timer controlled back light

Auto configuration to 12 or 24 V supply

Latest micro controller based system shuts wind charger down when batteries are full

Wall mounted modern moulded structure with easy access connection ports

Manual turbine & solar shutdown switch

Bulk & float charging stages for best battery performance

Temperature compensation to optimise charging in all conditions

Using internal sensor or external sensor also supplied

Accepts up to 6 mm² cable (SWG 11 or AWG 9)

Optional Remote Display can be added via dedicated port

Dimensionss: 193 x 127 x 40mm

Weight 0.42kg
HRDi Installation: 
1. Solar panels must be fitted with diodes 
2. Batteries must be connected first for auto voltage detection and setting 
3. Care should be taken when connecting the HRDi, as with all electrical devices, reverse polarity connection will cause damage to the HRDi
Rutland 914 Marine Mounting Kit
This is suitable for use on boats to mount the Rutland 914 Windcharger
Includes:
2.4m stainless steel mast

Deck plates

Guy brackets

Tube joiner

Bolts

*guys not supplied - Buy stainless poles according to your boat's dimensions
Recommend this product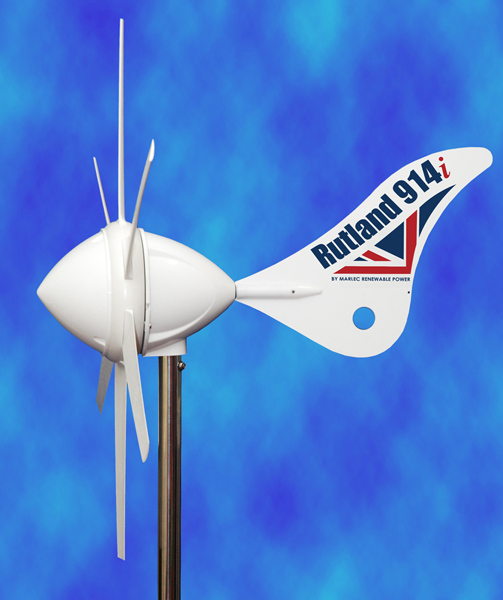 Rutland 914i Windcharger Wind Generator