Sandbanks Explorer 2022 Inflatable Kayak with SUP Technology
Buy Sandbanks Explorer 2022 Inflatable Kayak with SUP Technology, with free delivery to the UK. 
Buy any Sandbanks SUP/Kayak and receive 60% off Baltic Aqua Pro Buoyancy aids! Use code AQUAPRO60 at checkout*
New to market and available at Pro Marine Store, UK is the superb Explorer inflatable kayak from Sandbanks Style. 
Using technology derived from their excellently reviewed inflatable SUP range comes a single or two-seat inflatable Kayak, with the rigidity of a hard kayak but the easy use and transport of an inflatable SUP.
The Kayak uses pressure chambers derived from their high pressure SUPs, resulting in a high rigidity Kayak, for one or two people, with seating providing back support and a comfortable ergonomic paddling position.
The Kayak inflates to such high pressure that all flex and wobbliness that is typically found in all other inflatable kayaks is eliminated.  Make no mistake - this kayak is nothing like what you may have seen before from traditional inflatable kayak manufacturers as it uses a much higher quality construction, able to withstand extremely high pressures.  
Pressure = Rigidity = High efficiency paddling
The kayak packs down just like an inflatable SUP so is easily transportable as a backpack/wheelie bag, or in the boot of your car.  
The Explorer is a flat bottom, open top kayak designed to effortlessly carve through calm, flat water. Its design makes it ideal for people who are looking for fun on rivers, lakes and flat waters and is suitable for beginners and experienced paddlers alike. We have made the 2022 model slightly wider making it more stable than ever. The Explorer comes with luggage straps at the front and rear so it has plenty of room for dry bags and gear for your day on the water.  
Just like the Optimal, the Explorer is inflatable but designed to feel just like a solid kayak with no compromise in performance. What's more, it is more affordable than the equivalent hard kayaks on the market.  
The Explorer comes with removable seats, one or two 4-piece paddles, wheel bag as well as a removable skeg to add speed and stability. Following feedback from our 2021 models these accessories have been upgraded for greater comfort and performance, The explorer is available as a single or double seater.
Specifications
Explorer Single 
Length: 12'10''.
Width: 34''.
Thickness: 10cm side wall + 8cm bottom.
No. of Chambers: 3 (Two side wall + bottom).
Net Weight: 14.5kg.
Max Person: 1.
Max Capacity: 210kg.
Package Size: 90cm x 45cm x 37cm.
Inflation Pressure: 12psi.
Explorer Double
Length: 15'5''.
Width: 34''.
Thickness: 10cm side wall + 8cm bottom.
No. of Chambers: 3(Two side wall + bottom).
Net Weight: 18kg.
Max Person: 2
Max Capacity: 330kg
Package Size: 95cm x 55cm x 37cm
Inflation Pressure: 12psi
The Package
Top-quality Bravo two-stage pump;  
1 or 2 x Double sided, lightweight 4-piece aluminium paddles.
1 or 2 x Removable kayak seats.
Lightweight, hardwearing WHEELIE rucksack with room to pack everything.
3 year warranty.
1 or 2 x Foor Supports
Plus, you can call us anytime if you'd like us to talk you through setting up the Kayak.
Special Features
Flat bottom drop stitch hull
3 chambers (bottom & side walls)
1 x removable seat
Luggage straps front and rear
Recommend this product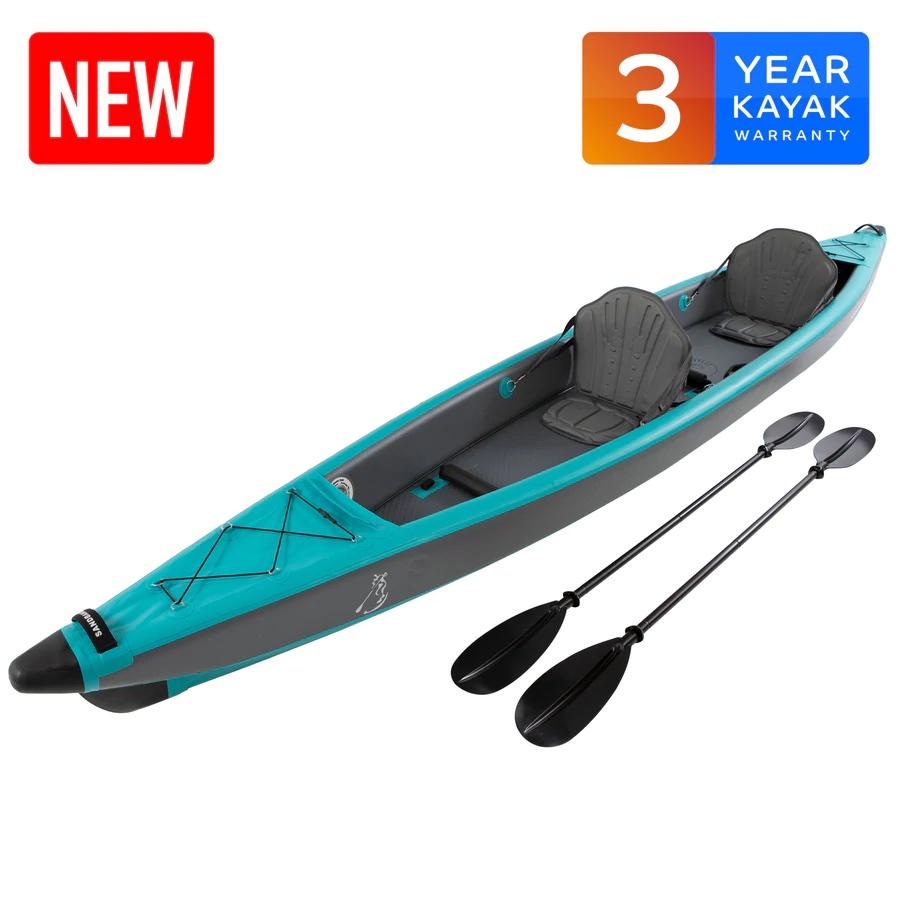 Sandbanks Explorer 2022 Inflatable Kayak with SUP Technology