Sandbanks Style Elite Pro Sport 2023 Inflatable SUP
Buy the NEW and highly regarded top-of-the-line inflatable SUP, with the highest quality build and accessories and outstanding characteristics.  Get the newest and best from Sandbanks this Spring! 
The Elite Pro Sport was designed to bridge the gap between all-rounder boards and touring boards. With superior hydrodynamic shaping, improved tracking performance and immense glide speed, the Elite Pro Sport is the perfect board for those looking to progress to something faster, whilst having the added advantage of being less bulky and more manoeuvrable than the Sports Touring board.
The Elite Pro Sport is the first board to incorporate cross stitch technology making even stronger and lighter than ever before.
The Elite Pro Sport truly gives you the best of both worlds. Not only can you enjoy excellent performance and effortless paddling, but the Elite Pro Sport is also surprisingly stable. This is because even though the board is narrower than the Ultimate board (30'' wide), it's only 4.75'' thick. This thinner construction helps to lower your centre of gravity and improve stability.
Sandbanks build their boards using a multi-layer fusion technology and take great care over the quality of our products. They run their business with very small overheads and are happy to take a smaller margin so you can have a great quality/performing paddleboard without it costing you a fortune.  Plus, the board comes with a 5 year warranty as standard.
Specifications:
Warranty: 5 years on our boards
Recommended Pressure: 18-20 PSI
Max Pressure: 25 PSI
Length: 10'10''
Width: 30'' 
Thickness: 4.75''
Volume: 252L 
Deckpad: Diamond grove 
Carrying Capacity: 150kg
Board weight: 8.5kg
Technology: Double skin laminated fusion
Fins: Easy fix central fin + 2 indestructible side fins
Special Features
Superior hydrodynamic shaping for immense glide speed and effortless paddling
Advanced cross stitch technology making to board stronger and lighter
Rocker (upturn at the nose) ensures good wave performance
Diamond Groove Deckpad provides a comfortable grippy surface for your feet.
Kick-Step (raised platform) at the rear makes step-back pivot turns easy to learn and master. In addition, our customers tell us it is ideal for sunbathing.
Triple Fin for extra control, including 1 easy fix fin and two attached guide fins for shallow water 
The Package
Bravo SUPer two-stage pump (model of pump may vary depending on availability)
Lightweight 3-piece fibreglass paddle;
Ankle surf leash with safety breaker;
Valve repair kit 
Lightweight, hardwearing WHEELIE rucksack with room to pack everything with your board, together with some spare towels etc etc 
5 year warranty
Plus, you can call us anytime if you'd like us to talk you through setting up the board!
View video
Recommend this product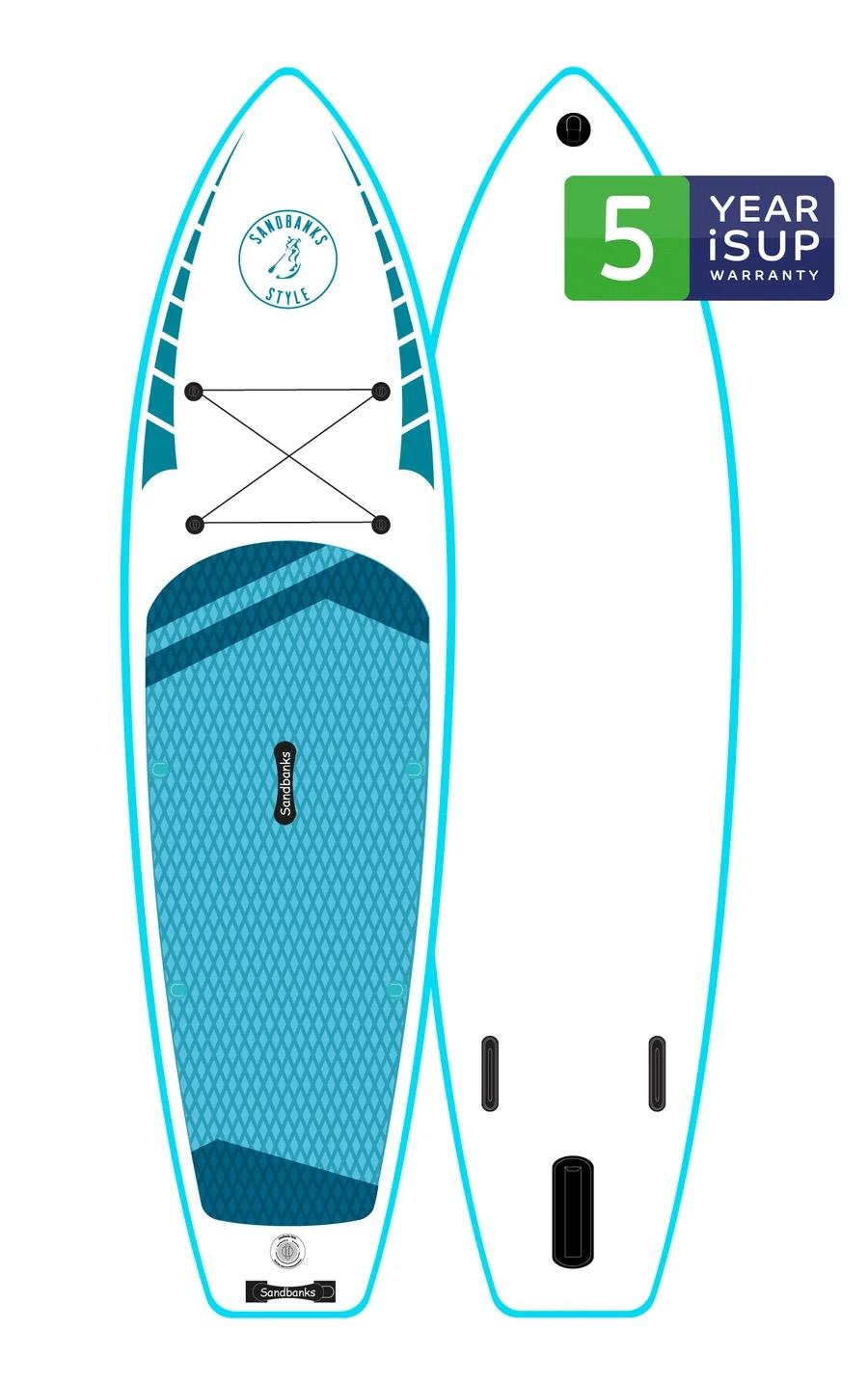 Sandbanks Style Elite Pro Sport 2023 Inflatable SUP