Sea Lion 1 Piece Carbon Paddle - Maple Burl
Buy Sea Lion 1-Piece Carbon Paddle - Maple Burl with free delivery to the UK. 
Our lightest performance high-performance paddle (450g) offering a powerful, efficient stroke with a full carbon flexible shaft for those long or short days on the water. Premium paddle handcrafted in Thailand. 
Specifications
Teardrop Blade Area: 84.5in2/545cm2
Blade Angle: 10 Degrees
Length x Width: 7.5 x 17.75in/19 x 45cm
Weight: 450g
Construction
Plant-based bio resin infused – that's right, plant based glue!

100% long grain low-density FSC certified balsa wood core

Unique Eye-catching Wood Veneer Wrap for added strength

Extended reinforcement UD carbon neck for extra strength

Full ABS protective rail all around the blade and next to protect both your paddle and board
Paddle Length
Please note, your paddle length is unique to you - the paddles come long enough for even the tallest of paddlers, with the handle as a separate item.  Therefore it is up to you to choose your paddle shaft length.  As a general rule, to find your paddle length, take your height, add a hand's length to that and cut the shaft at that point.  Then use a two-part epoxy glue like Araldite or equivalent to glue the handle into the paddle shaft.  Please note paddles that have been cut are no longer eligible for returns.
Recommend this product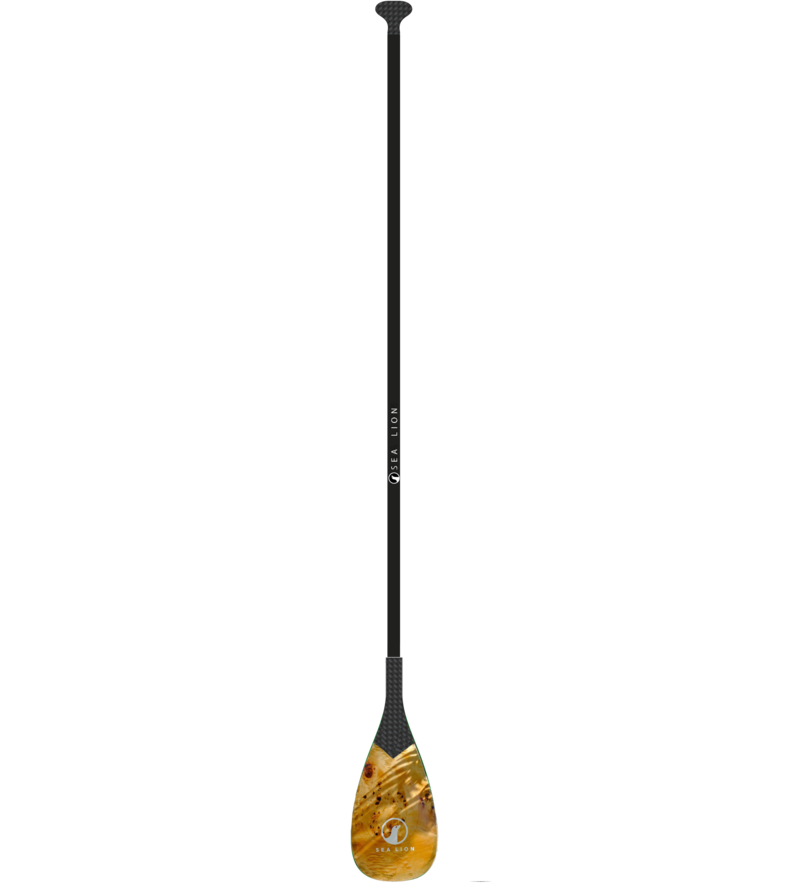 Sea Lion 1 Piece Carbon Paddle - Maple Burl