SeaGo Dinghy Accessories & Dinghy Spare Parts - Full Range
Buy from a full and complete range of dinghy accessories and dinghy spare parts for the SeaGo range of inflatable dinghies and inflatable tenders.  Dinghy spare parts will keep you out on the water longer!
***Please call for current stock!***
We stock a complete range of spare parts for SeaGo inflatable dinghies, available with immediate dispatch.  Achieve dinghy repairs and dinghy upgrades and fix my dinghy parts.  We have everything you need in our dinghy spare parts warehouse.  Dinghy spares will mean you dont have to replace the whole boat tender.  Rather, pick what you need and you will be out on the water in no time.  With free delivery to the UK, we are unbeatable on price and availability of dinghy spares for your inflatable boat.
Dinghy Spares for SeaGo Inflatable Dinghies
SeaGo make great quality inflatable tenders and we have all the backup you need to keep out on the water.  Here is the full list of parts we have:
AIRDECK ONLY FOR TSR320 (2012 AND NEWER)
AIRDECK FOR 230 RT- 2010 MODEL ONWARDS
AIRDECK FOR 240 - 2010 MODEL ONWARDS
AIRDECK FOR 270 - 2010 MODEL ONWARDS
AIRDECK FOR 290 - 2010 MODEL ONWARDS
PLASTIC END STOPS FOR ALUMINIUM SEATS
BOAT COVER  LARGE - 2.9M TO 3.2M
BOAT COVER  MEDIUM - 2.6M TO 2.8M
BOAT COVER  SMALL - 2.3M TO 2.4M
CARRY BAG FOR TENDER LARGE - 1200 x 650 x 400
CARRY BAG FOR TENDER SMALL - 1100 x 600 x 300
CONE - BLACK
LIFTING PATCH LARGE - FOR NEW STYLE BOATS (NAVY PATCH)
LIFTING PATCH NEW STYLE BOATS - SMALL (NAVY PATCH)
OUTBOARD BRACKET FOR 2.3M ROUND TAIL BOAT * NEW STYLE **
U SHAPE RETAINING CLIP FOR OARS - GREY
RETAINING NUT FOR ECO ROW LOCK
SEAGO OARS FOR 260SL, 270, 290 & 320 SPIRIT - PIN TYPE CONNECTION
SEAGO OARS FOR 230SL, 230RT & 240 SPIRIT - PIN TYPE CONNECTION
GENERIC OARS LONG 146.5CM - NO HOLES
GENERIC OARS SHORT 136.0CM - NO HOLES
FOOT PUMP FOR BOATS 2010 ONWARD
SEAGO BOAT BAG BACK PACK - BLACK
SEAGO LOGO RECTANGLE (NAVY)
SEAGO LOGO OVAL (GREY)
SEAGO LOGO OVAL (NAVY)
ALUMINIUM SEAT 78CM
SEAT RETAIER FABRIC FOR SLIDE STYLE
SEAT PATCH WITH WEBBING
WOODEN SEAT FOR 230RT & 240 SLIDE TYPE
WOODEN SEAT FOR 230SL, 260SL, 270, 280, 290, 320, SLIDE TYPE
TRANSOM BUNG COMPLETE - BLACK
VALVE CAP
COMPLETE VALVE - 2010 MODEL ONWARDS
2.7MTR KEEL ONLY
SLAT ONLY FOR THE AIRDECK OF A TSR270
BOWBAG CLIP & PATCH
BOW BAG - LARGE (270,290,320)
BOW BAG SMALL (230,240)
BUCKLE FOR BOW BAG
CONE FOR REAR OF TUBES
D-RING AND PATCH COMPLETE (GREY PATCH)
BLACK FABRIC FOR FLOOR
FABRIC PATCH - LARGE (1.5m x 0.5m)
EYELETS FRO GRAB LINE
LIFTING HANDLE AND PATCH D RING (GREY PATCH)
RETAINING TOGGLES FOR OARS
OLD STYLE BOWBAG - LARGE (NAVY)
OLD STYLE BOW BAG -SMALL (NAVY)
BOAT REPAIR KIT
ROWLOCK FOR OARS
ECO ROWLOCK
ROWLOCK FOR GO LITE
ROWLOCK STEM SECTION ONLY INCLUDING OAR NUT
SEAT BAG FOR TENDERS
PLASTIC V CLIP FOR OLD STYLE SEAT
PLASTIC SEAT SLIDER FOR BOATS (GREY)
PLASTIC SEAT SLIDER FOR BOATS (BLACK)
TRANSOM BUNG COMPLETE - NEW STYLE
TRANSOM BUNG COMPLETE - OLD STYLE
TRANSOM BUNG - SLIDING
TRANSOM WOODEN PAD
METAL TRANSOM PLATE
TRANSOM PLUG ONLY
VALVE SPANNER
HEAVY DUTY DINGHY WHEEL - PAIR
HEAVY DUTY DINGHY WHEEL - PAIR (BOX QUANTITY)
Recommend this product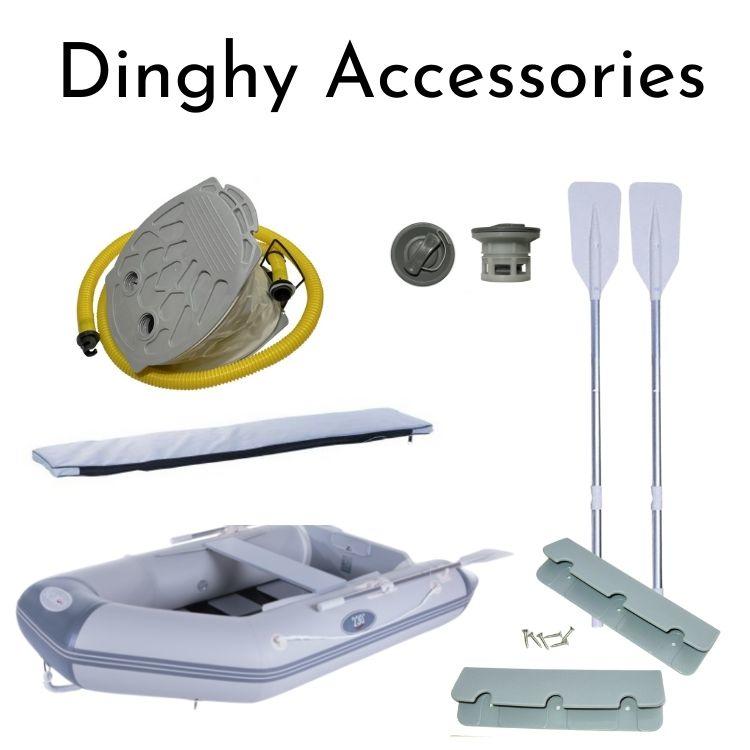 SeaGo Dinghy Accessories & Dinghy Spare Parts - Full Range