SeaGo Sea Cruiser ISO 9650-2 Liferaft
The all new Sea Cruiser life raft is certified to ISO 9650-2. Specification not only complies with ISO9650-2 but surpasses its requirements in certain critical areas.  As part of SeaGo's continuing design review we have identified the importance of a thermally insulated floor to prevent hypothermia, even when used in coastal conditions.  Therefore all Sea Cruiser life rafts have a thermally insulated floor, this surpasses the basic requirements of the ISO 9650-2 that does not specify one. 
Independent chambers: Stays afloat with puncture in one chamber                        
Inflates in seconds: Minimising exposure, improving odds                        
ISO Safety Pack as standard                   
Hand-over-hand grab lines: Aiding fast boarding                        
Durable Seago rubber chambers: We believe to be the safest and strongest material                        
Over pressure valve: Preventing over inflation                                                        
Ladder boarding: 
When boarding from the water every second really is essential. Body temperature and survival chances can drop rapidly in colder conditions. This ladder makes it easier and faster. 
Internal & external light: A powerful external flashing light can be seen for miles in good conditions, maximising the chance of rescue, while the internal light helps to maintain essential night time visibility.                        
Fresh water collection system: Drinking water is one of the main necessities of survival. This collection system ensures that rain is not wasted but captured and retained                        
Thermal layer: Once safely inside the raft the Seago thermal layer will offer occupants essential protection from icy seas. The layer keeps body heat inside the life raft while reducing the cooling impact of the water temperature, day and night.                        
Ballast pockets:The raft is equipped with 4 x 55L ballast pockets that are crucial in stabilising the raft and help prevent the raft from overturning in challenging sea conditions. 
PACKED DIMENSIONS (MM) / Weight (KG)
Valise                                               Container
4 man L600 x W300 x H400 (25KG)     L680 x W430 x H280 (32KG)
6 man L670 x W310 x H460 (32KG)     L750 x W490 x H290 (40KG)
8 man L760 x W340 x H420 (35KG)     L750 x W490 x H310 (45KG)
Due to compressed gasses in the liferaft, we can only deliver to UK mainland addresses only. For delivery overseas please call us.
Recommend this product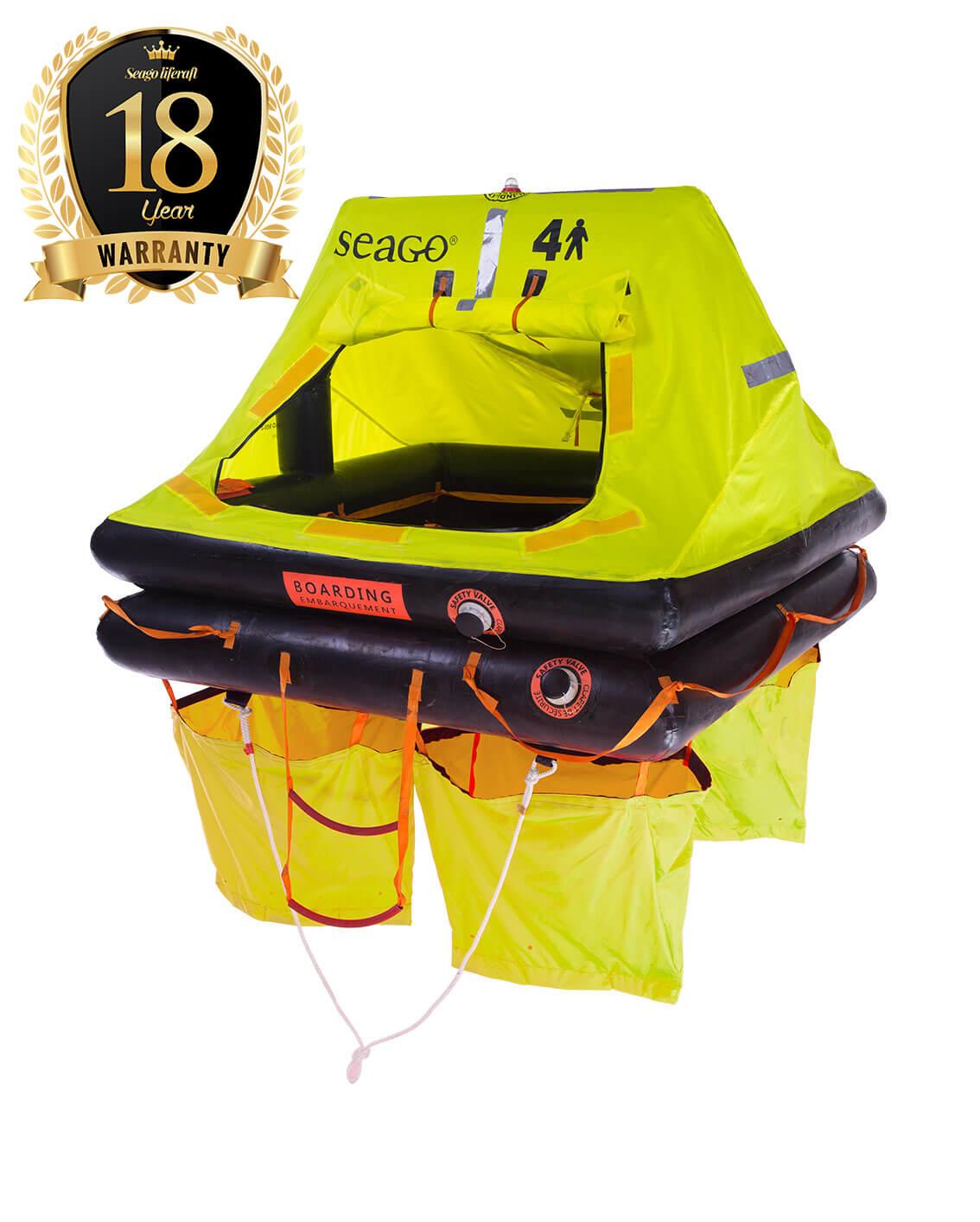 SeaGo Sea Cruiser ISO 9650-2 Liferaft