SeaGo SeaMaster ISO 9650-1 Liferaft
The SeaMaster is the perfect partner for offshore sailing on recreational or coded craft, designed and refined over many years in partnership with professionals.    
SeaGo has worked with users from a variety of backgrounds to design and vigorously test this raft, which, as a result, has become one of the flagship Seago products. 
For a brand which has built its reputation on giving a close knit community of sailors what they need to remain safe in pursuit of adventures big and small, the SeaMaster truly embodies the Seago Spirit. 
Internal & external lights: Flashing exterior light draws attention
Inflates in seconds: Minimising exposure, improving odds 
ISO Safety Pack as standard: 

See end of section for details
Hand-over-hand grab lines: 

Aiding fast boarding                        
Durable Seago rubber chambers: We believe the safest and strongest material in life raft design                        
Over pressure valve: Preventing over inflation                                                        
Easy boarding: 
When boarding from the water every second really is essential. Body temperature and survival chances will decrease fast in cold conditions. Seago's ladder and ramp makes it easier and faster.
Independent chambers: 
The rubber used to make the life raft chambers is exceptionally strong, but in the unlikely event one chamber is punctured the other will remain inflated and support a raft filled to capacity.
Fresh water collection system: Drinking water is one of the main necessities of survival. This collection system ensures that rain is not wasted but captured and retained                        
Thermal layer: Once safely inside the raft the Seago thermal layer will offer occupants essential protection from icy seas. The layer keeps body heat inside the life raft while reducing the cooling impact of the water temperature, day and night.                        
Ballast pockets: The raft is equipped with 4 x 55L ballast pockets that are crucial in stabilising the raft and help prevent the raft from overturning in challenging sea conditions. 
Emergency Pack - 1 x Bailer, 1 x Drogue (sea anchor), 1 x Floating knife, 1 x Hand pump, 1 x Life saving signal card, 1 x Pair of oars, 1 x Repair kit, 1 x Rescue quoit with 30m of line, 1 x Signal mirror, 1 x Waterproof torch & batteries, 1 x Wet notes, 1 x Whistle, 2 x Parachute rockets, 2 x Sponges, 3 x Red hand flares, 6 x Anti sea sickness tablets (MHRA Approved WDA license number: 43548)
            Valise                        Container
4 man   L650 x W300 x H420   L730 x W490 x H310
6 man   L720 x W340 x H460   L730 x W490 x H310
8 man   L720 x W340 x H460   L780 x W530 x H365
Due to compressed gasses supplied with the product, we can only deliver to UK mainland addresses only.
Recommend this product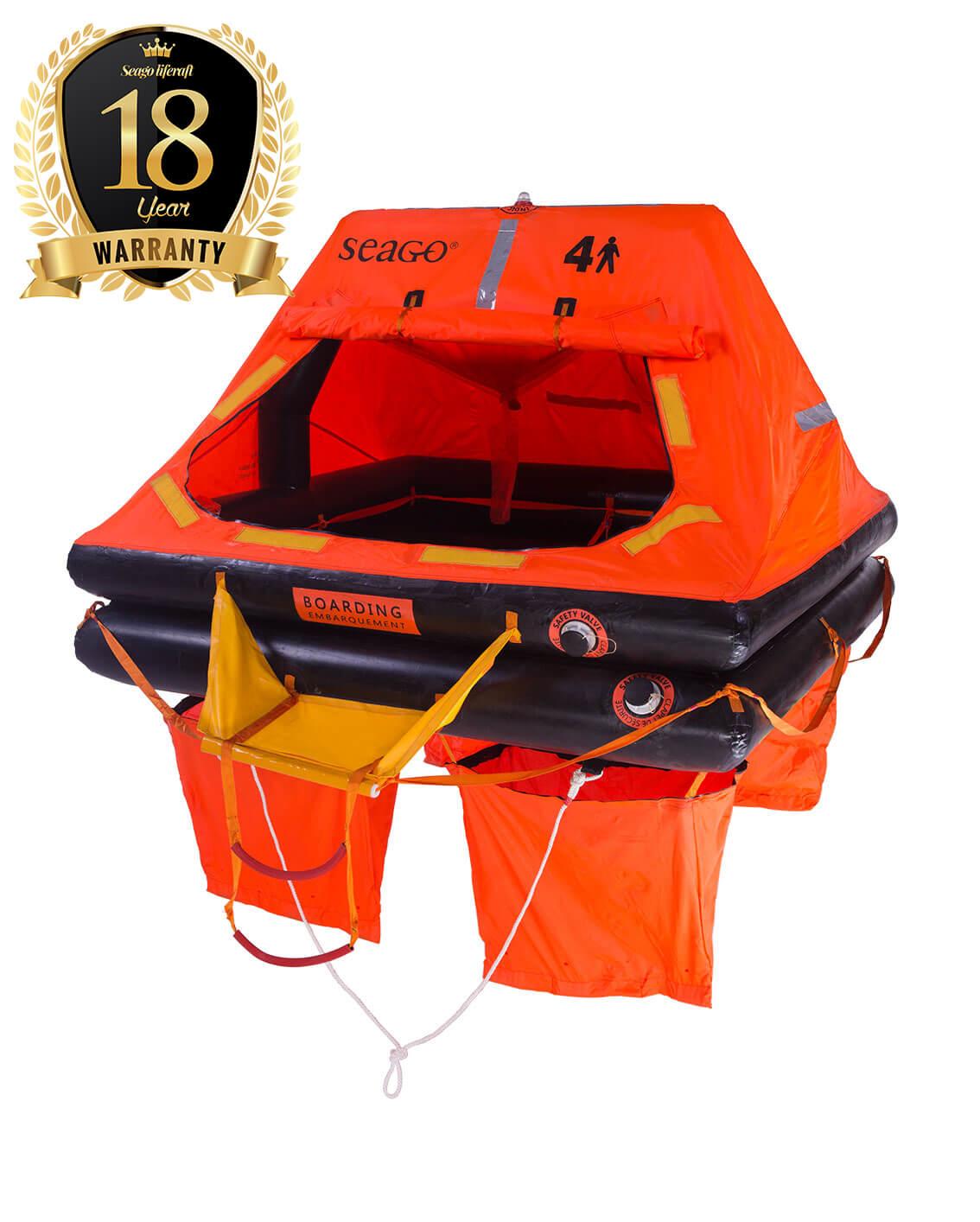 SeaGo SeaMaster ISO 9650-1 Liferaft