Simarine PICO Battery Monitor
Buy the Simarine PICO Battery Monitor for sailing boat and yacht battery bank monitoring, with free delivery to the UK, only at Pro Marine Store.

SIMARINE PICO Battery monitor sets new standards for marine battery monitors and tank monitors in fields of design, functionality, connectivity and ease of use. The IP67 casing of the main unit is CNC-milled from a single piece of high quality 6000 series anodised aluminium (corrosion-proof).
The 3.5'' inch IPS LCD display is optically bonded with Anti-Reflective Gorilla Glass®. Our unique Real Time Battery Health™ algorithm ensures very precise battery state of charge and health measurements.
GENERAL SPECIFICATION:
Display
LCD TFT 3,5'' High resolution IPS, Gorilla Glass, anti-reflective coating
Human interface
4 Touch buttons, water resistant Enclosure CNC-milled anodised aluminium, water- and dust-proof
Dimensions
HxWxD 98 x 84 x 11 mm
TECHNICAL SPECIFICATIONS
Operating voltage 6 - 35 V
Power consumption at 12V
Operating, wifi on, 100% illumination 90 mA
Operating, wifi of, 70% illumination 35 mA
Stand by, wifi of, 0% illumination 18 mA
Power of, logger still active 5 mA

Choose the outstanding Simarine PICO battery monitor for monitoring all your charge and discharge sources from one unit, with a colour touchscreen and wifi streaming to your accompanying smartphone app.  The Simarine PICO has been nominated for the prestigious DAME Design award, and shows what can be achieved when using a colour touchscreen.  See clearly what is going in and out of your boat battery bank, see all power flows, and monitor how each system affects your battery charge state.

SIMARINE's advanced battery monitor for more demanding users. It can be connected to:
up to 6 battery banks,

6 additional battery voltages

14 tank levels (for temperature monitoring)

20 consumer or power generation readings.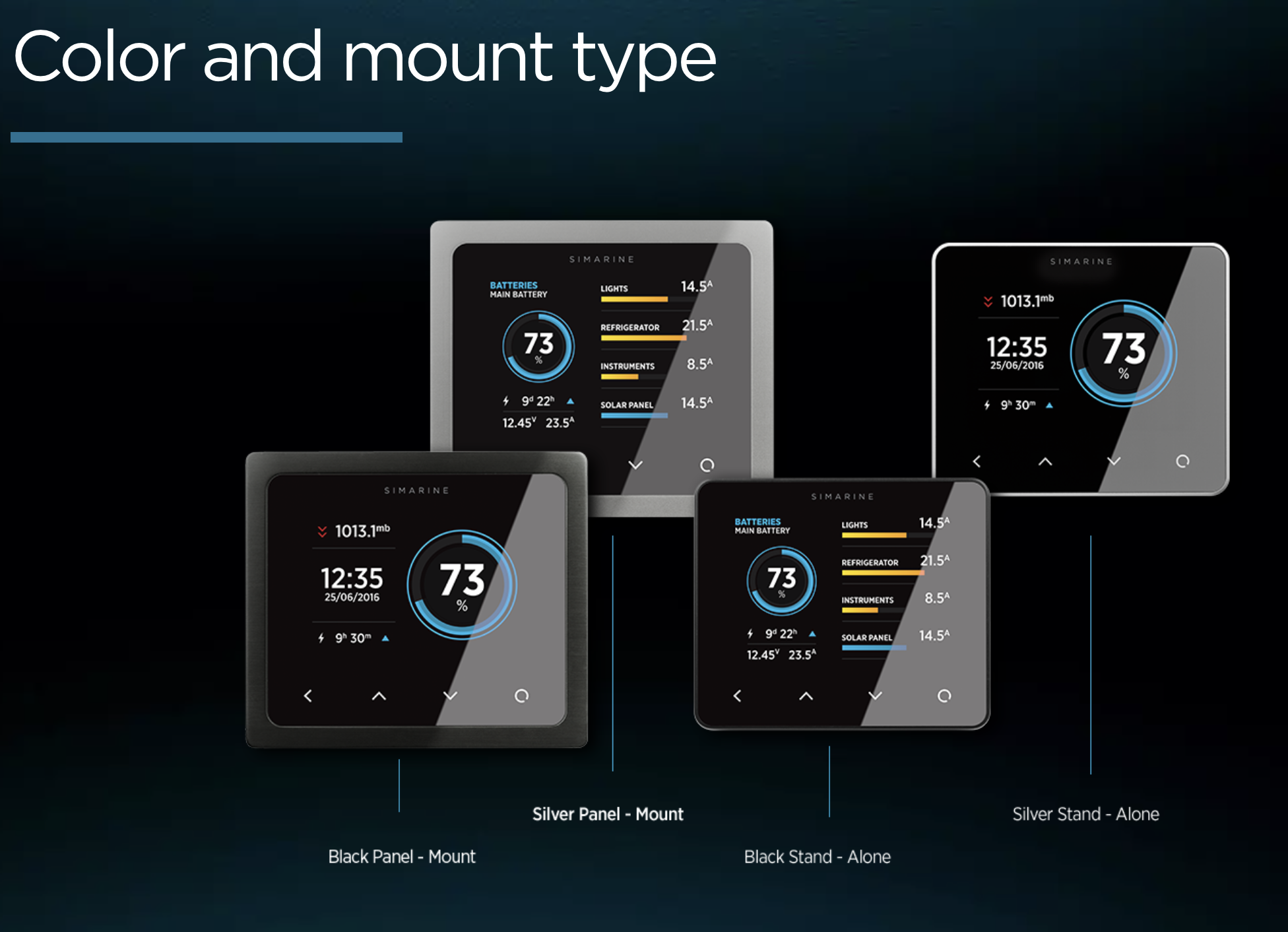 PICO is SIMARINE's advanced battery monitor and the Real-Time Battery Health™ Algorithm for precise battery health measurements. It sets new standards for marine battery monitors in fields of design, functionality, connectivity and ease of use.
Compatible with all SIMARINE shunts and modules.
Its expandable architecture allows adding up to 20 SIMARINE shunts and modules to monitor all kinds of boats, yachts and caravans – from a small one to a superyacht system with up to 6 battery banks, 14 tanks and 20 independent consumer and generators.
PICO's display unit is made of a sleek anodised aluminium casing and a thick Gorilla® Glass with Anti-Reflective coating protecting the optically bonded high-contrast 3.5 inch IPS LCD display. It's water and dust proof and can be mounted both indoors and outdoors. The screen brightness is automatically adjusted with a light sensor. The device is operated by four water tolerant CapSense® touch buttons.
The barograph gives precise air-pressure readings, trends, and history.
Free SIMARINE Android and iOS Apps are available to connect your PICO to your smartphone via Wi-Fi. The Apps allow you to monitor all battery and tank data, upload history, edit and restore settings and even upgrade the firmware with new features.
Barograph function included.
| | |
| --- | --- |
| Operating | |
| Power source voltage range | 6 - 35 V |
| Temperature range | -20 – +70 °C |
| Power consumption at 12 V | |
| Operating, WiFi On, 100% illumination | 90 mA |
| Operating, WiFi Off, 70% illumination | 35 mA |
| Operating, WiFi Off, 0% illumination | 18 mA |
| Power Off, logger still active | 5 mA |
| Resolution | |
| Current (A) | ±0,01 A |
| Voltage (V) | ±0,01 A |
| Amp hours (Ah) | ±0,1 A |
| SOC - Stat of Charge ( 0 - 100%) | ±0,01 A |
| Temperature | ±0,1 °C / °F |
| | |
| --- | --- |
| Voltage inputs | |
| Range | 0 – 75 V |
| WIFI | |
| Radio Frequency Band | 2,4 GHz |
| Dimensions (without connector) | |
| Standalone | 89 x 84 x 10 mm |
| Panel | 108,5 x 94 x 10 mm |
| Connectivity | Up to |
| Batteries | 6 |
| Shunts | 24 |
| Temperature sensors | 10 |
| Tank level sensors | 14 |
| Inclinometer sensors | 2 |
| Smartphone application | 1 |
| Logger Capacity | up to 3 month |
Recommend this product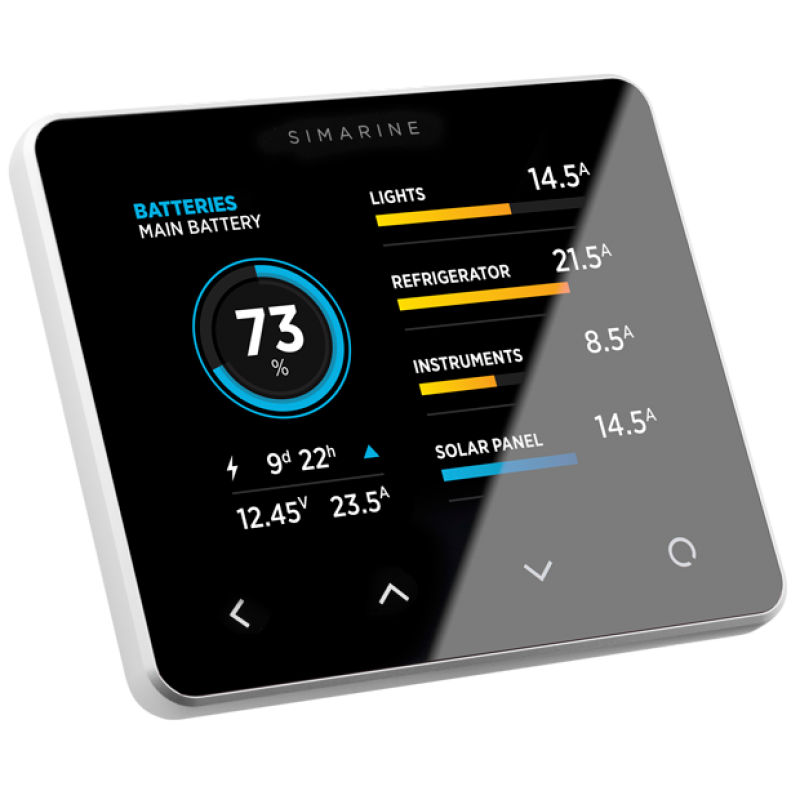 Simarine PICO Battery Monitor