Simarine SC303 Active Digital Shunt for Battery Monitor
Buy Simarine SC303 Digital Shunt for Simarine PICO Battery monitor, with free delivery to the UK, only at Pro Marine Store. 
***Note: Simarine no longer offer the SC301 - this has been superseded by the SC303***
Innovative combination of shunt and tank level module. SC303 is an active combo shunt for PICO battery monitor with 2x voltages, 2x tank level or temperature, 1x socket for temperature sensor with JST connector and 1x current sensor up to 300A for up to 75V systems. 
It can be used for monitoring current draw of heavy consumers (inverters, bow and stern thrusters, anchor winches) and current generators (shore power chargers and solar panels). Additionally, it allows monitoring tanks for fuel, fresh and grey water.
Technical Details
| Operating | |
| --- | --- |
| Power source voltage range | 6 – 35 V |
| Temparature range | -20 – +70 °C |
| Power consumption at 12 V | |
| Operating | 0.8 mA |
| Current measuring range | |
| Per channel | 0,1 – 320 A |
| Accuracy | ± 0,6 % |
| Resolution | 0,01 A |
| Sampling rate | 100 ms |
| Maximal current | |
| Continuous | 300 A |
| Peak current (<1 min) | 400 A |
| Peak current (<5 min) | 700 A |
| Voltage drop at 300 A | 50 mV |
| Maximal voltage on connections | 35 V |
| Voltage inputs |   |
| --- | --- |
| Range | 0 – 75 V |
| Resolution | 1 mV |
| Accuracy | ± 0,2 % |
| Sampling rate | 100 ms |
| Resistance inputs |   |
| Range | 0 Ohm – 65 kOhm |
| Accuracy | ± 3,0% |
| Temparature sensor – NTC 10k |   |
| Range | -15 – +80 °C |
| Accuracy (-10 – 60 °C, 14 – 140 °F) | ± 3,0% |
| Connectivity | Up to |
| Batteries | 1 |
| Temparature sensors | 3 |
| Voltage sensors | 2 |
| SiCOM RJ9 Sockets | 2 |
| Installation and Dimension |   |
| Dimensions (length x width x depth) | 120 x 120 x 60 mm |
| Battery Connection | M 10 bolts |
Recommend this product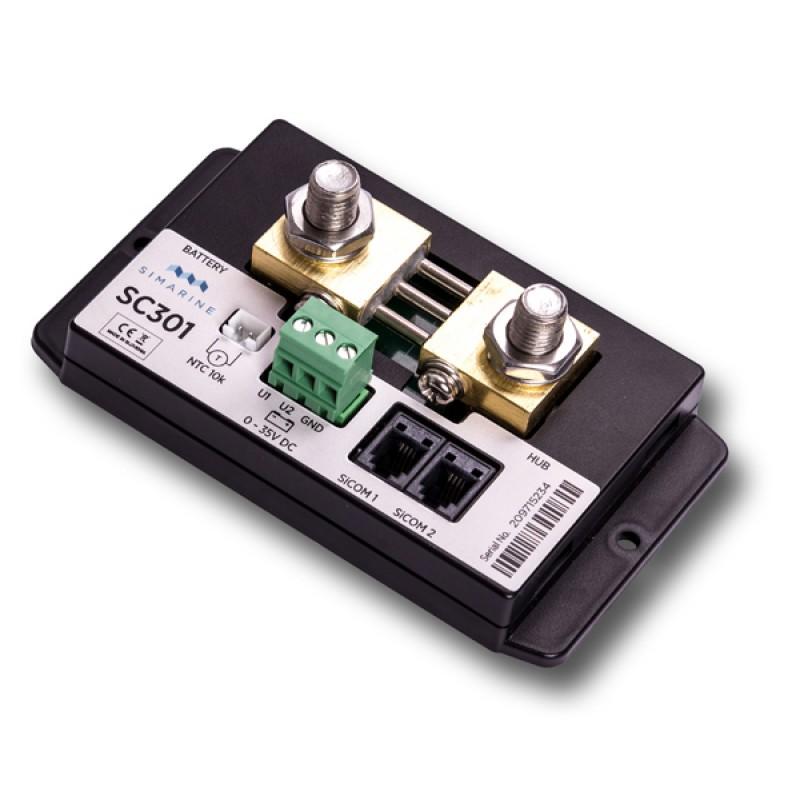 Simarine SC303 Active Digital Shunt for Battery Monitor