SML Anti-Slip Beads
"Buy SML Anti-Slip Beads with Free Shipping to Mainland UK."
New improved anti-slip beads.  This new product has neutral buoyancy, so it stays in suspension in the paint during application, giving a more even finish.  For use in single pack or two pack topcoats to give a non-slip finish. Excellent for decks and walkways. 
Stir into paint prior to application.  Available in 125 gram, 250 gram and 1kg packs.  In normal situations 125 grams is sufficient for 2.5L litres paint;  use 250 grams in 5 litres.  For a really high dregree of anti-slip  use 200 grams in 2.5L and 375 grams in 5L.  
Anti-Slip Beads do not provide as coarse a finish as our Aluminium Oxide Anti-Skid Additive, but are a much easier product to work with. Ideal for most leisure uses.
IF YOU HAVE PURCHASED ANTI-SLIP BEADS FROM US BEFORE JUNE 2020 PLEASE READ THE LABEL AS PREVIOUSLY YOU REQUIRED 1KG OF BEADS FOR 5 LITRES OF PAINT.
Recommend this product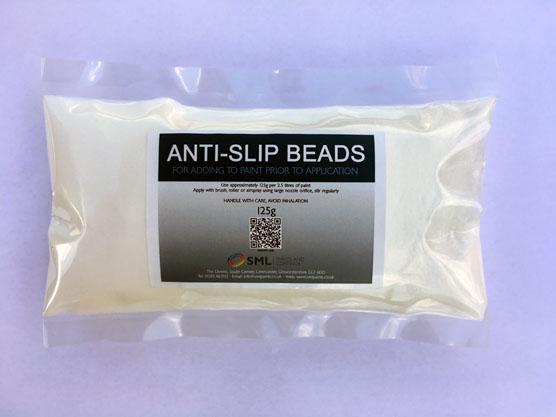 SML Anti-Slip Beads