SML Ballastic Black
"Buy SML Ballastic Black with Free Shipping to Mainland UK."

NOW WITH ADDED UV PROTECTION - BLACK STAYS BLACK FOR LONGER
Ballastic Black Premium Hull Blacking is a combined primer and topcoat, high build bitumen coating that is ideal for use below the waterline as a hull blacking on narrowboats, canal boats and for vessels on the inland waterways. Bitumen products such as Ballastic Black provide an extremely flexible coating it can be applied on to bare steel or over existing bitumen based coatings (like Intertuf 16, Comastic and Rylards Rytex).
Ballastic Black has a higher percentage of volume solids than other hull blacking products. This means that when applied at the same spreading rate Ballastic Black will provide a thicker coating which will give better corrosion protection and, perhaps more importantly, at a lower cost.
We have put together some packs with Ballastic Black and everything you need for a canal boat project. See our 'Offers' section for more details.
Specification 
Application method

  

Brush, roller or high pressure airless spray
Coverage

  

6 - 7 m² per litre
No. of recommended coats

  

2
Drying time @ 23°C

  

12 hours
Thinner

  

Jotun Thinner No. 2 or SML Alkyd Thinner
Product features
Waterproof and flexible

Apply to steel or over other bitumen coatings

Better corrosion protection & better value than the competition
Recommend this product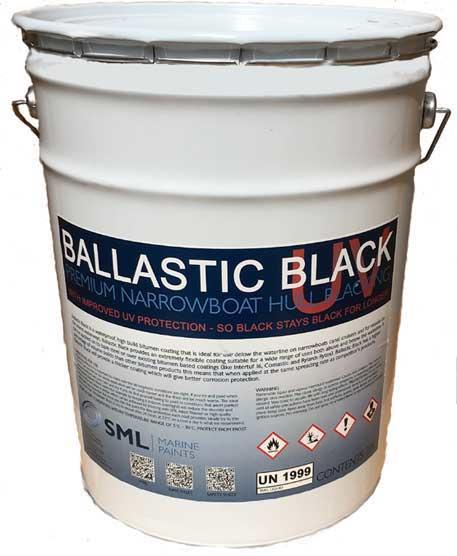 SML Ballastic Black