Spectra Power Survivor 40E Water Maker
Buy the Spectra Power Survivor 40E Water Maker for Yachts & Sailing boats Online, UK. 
Pro Marine Store is a recognised dealer for Spectra water makers in the southeast of the UK. 
Live Stock: 3 units
PowerSurvivor 40E Water Maker. 
The world's smallest electrical desalinator.  The 40E contains 40% fewer parts than its popular predecessor, the PowerSurvivor-35. Simplified construction and rugged design make the 40E remarkably easy to install, operate and maintain.  Extraordinarily compact, the 40E can be installed in the nooks and crannies otherwise unusable in many yachts. No watermaker draws so few amps. Using only 4 amps, the 40E can run for extended periods on alternative power alone.  The heart of the 40E is the rugged stainless high-pressure pump. Armed for the rigours of the marine environment, this watermaker is built to last. We're so certain, we've covered it with a superior warranty: 3 years on most components. The PowerSurvivor-40E is the only power watermaker that converts to manual operation in emergencies.
The Box contains the following items:
PS 40 Unit - membrane/motor assembly

Filter housing - Model 28 series (filter installed)

Handle assembly

Replacement filter - Pentair R30

Owners Manual

Grease - Grizzly grease, 25g tube Bio 1-1000

3 Way Valves Kit, PS40 (8018664)

Membrane Preservative, 240g (8013609)

Spool Valve Kit, PS40 (8016525)

Fittings Kit, PS40 (8018659)

Prefilter Installation Kit, PS40 (8018661)

Hose Kit, PS40 (8013989) - 34,5'' Intake hose, 10' product hose, 10'' brine discharge hose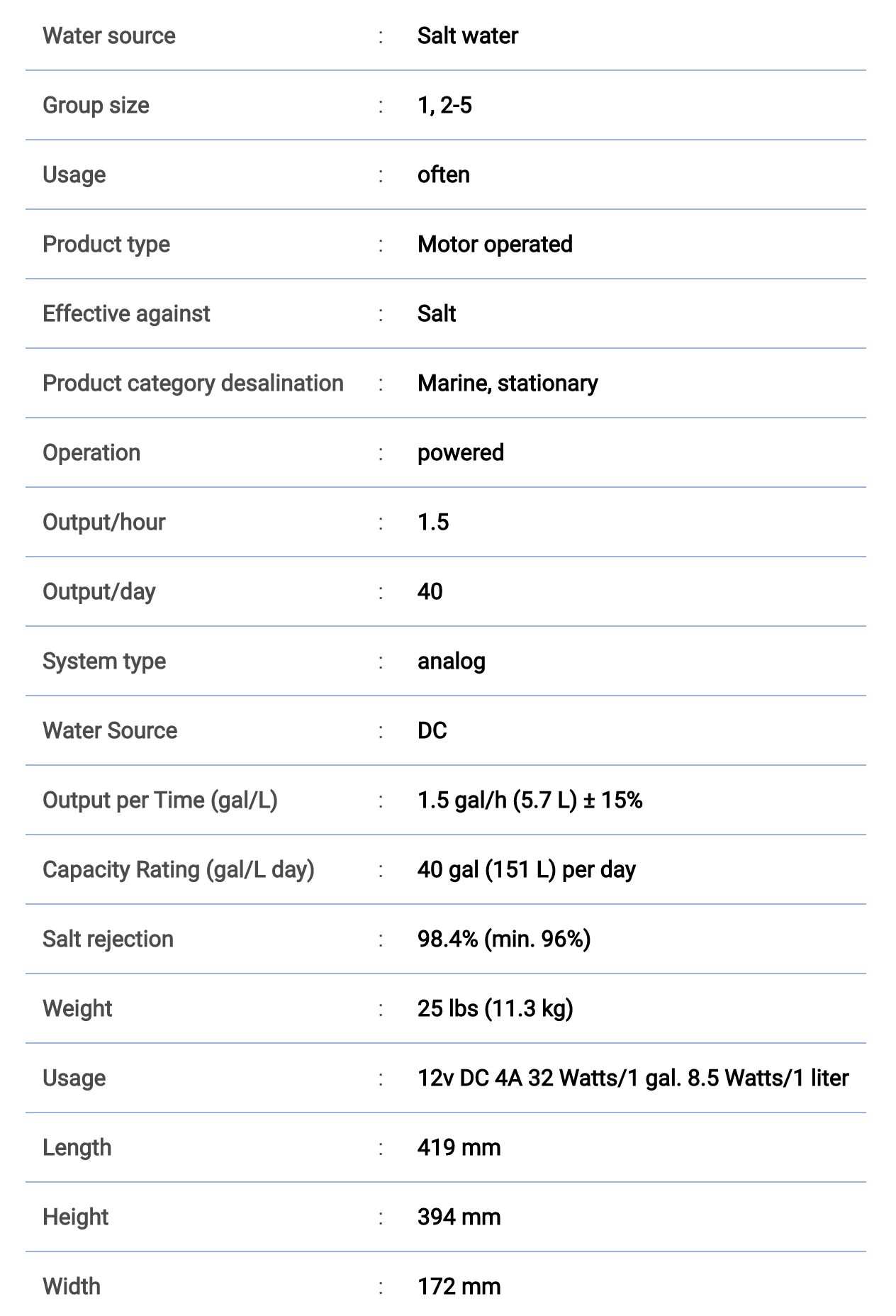 Recommend this product
Spectra Power Survivor 40E Water Maker