Spectra Ventura 150 C Watermaker
Buy Spectra Ventura 150C at Pro Marine Store - Recognised Spectra Dealer.
"The popular Ventura 150 Watermaker with Spectra Connect versatility"
The Spectra Ventura series is engineered for the smaller vessel to be energy-efficient and lightweight. These watermakers are composed of compact modules, making for easy installation in confined spaces. The Ventura 150c operates anywhere in the world and delivers over 6 gallons (24 liters) of fresh drinking water an hour. The Ventura 150c features the new Spectra Connect controller, which allows you to operate and monitor your watermaker from a remote device. Spectra Connect also has new added features like the Fill Tank mode, or a customizable Auto Run mode, One-TouchSensor Calibration, and suggested maintenance intervals displayed on the dashboard. Add the Z±ION Membrane Protection System to extend service life on membranes and filters without the use of aggressive chemicals.

Completely automated with the Spectra Connect Panel
Compact modular design.
Spectra's unique Clark Pump for efficiency and reliability.
Low power consumption, can be run on batteries, solar or wind power.
24 Litres every hour, 568 Litres a day
Weight: 38.6kg
12V DC 9A / 24V DC 4.5A
17 Watts/1 Gallon, 4.5 Watts/1 Litre.
System includes installation kit, handheld water quality tester and product sample valve.
Whisper Quiet
Watermakers are specialist products and as such need careful planning and installation.  Please call us for pricing and free dedicated help with the project so we can insure you get the system correct and working perfectly for your boat 
Recommend this product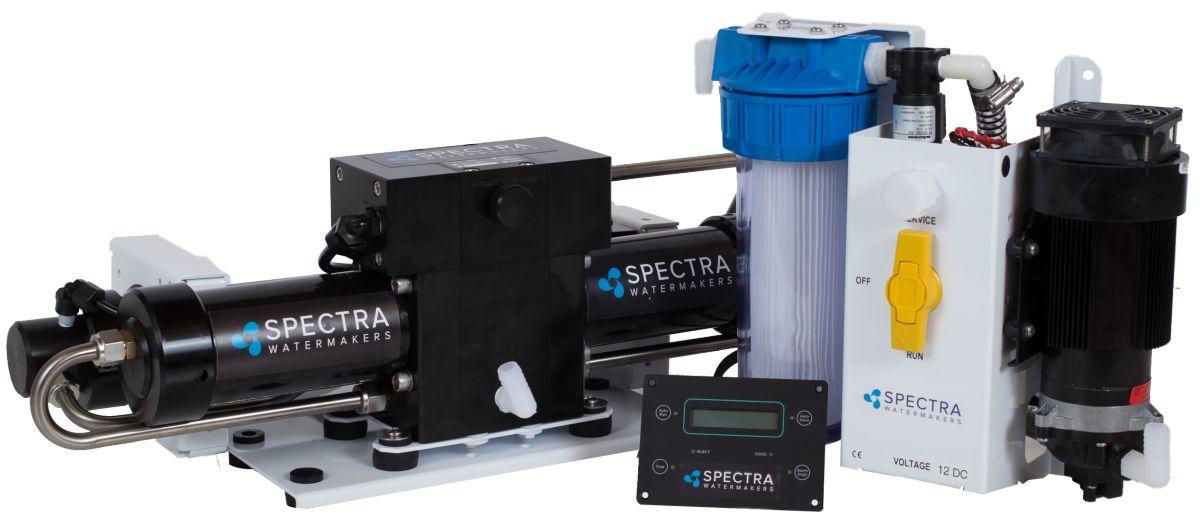 Spectra Ventura 150 C Watermaker