Spirit 12v and Solar Charger for ePropulsion Plus Motors
Buy the Spirit 12v and Solar Charger for ePropulsion Spirit PLUS Motors with free delivery to the UK! 
***This unit will only work on the newer Spirit Plus batteries due to voltage differences between the two units***
12v Charging and Solar Charging
Combine two extra ways to recharge your ePropulsion Spirit 1.0 Plus electric outboard motor, with the 12v and Solar charger controller from ePropulsion.  Use this device to connect solar panels to your motor battery, or plug in the included accessory cable to a standard cigarette lighter 12v port in your car or boat.  Benefit from free delivery to mainland UK addresses.  Contact us for further advice or to talk through the ePropulsion products if you need any extra help!
Click here to see the Spirit 1.0 electric motor. 
Specifications
Battery    
Rated system voltage     46.2V
Charging Voltage     39 ~ 46.2V
MPPT Charging at 25°C    <46.2V
CV Charging Voltage at 25°C     46.2V
Max CC Charging Current     3A
PV    
Power     180W
Maxium Input Charging Current     10A
Open Voltage     ≤35V
 MPPT Tracking Range     12V ≤Vp V35V
MPPT Efficiency    ≥99.9%
Power Consumption    <20mA
Temperature Protection    >80°C
Storage / Operation Temperature     -35~60°C
Protection Grade     IP65
Weight    1.25kg
Dimensions    152 x 101 x 49 mm
12v Cable length    50 cm
View video
Recommend this product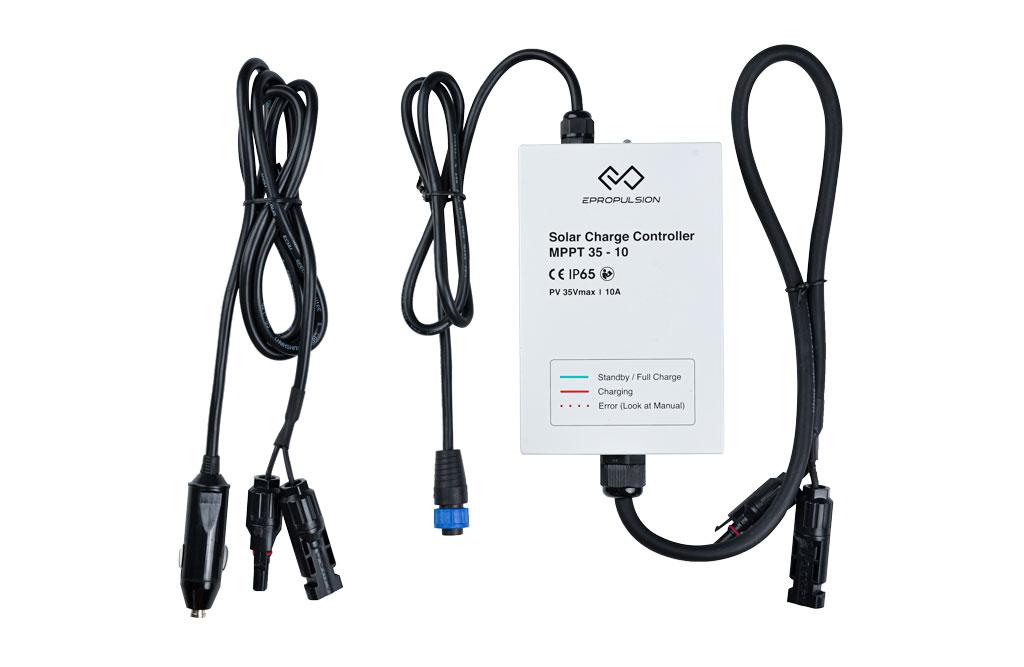 Spirit 12v and Solar Charger for ePropulsion Plus Motors