Tankguard HB
"Buy Marine Deck Paint 2.5L with Free Shipping to Mainland UK."
Jotun Tankguard HB is a high build epoxy coating that has an excellent resistance to a wide range of chemicals and solvents. It is used extensively in gas and oil storage tanks and pipelines.
It can be used as a primer, mid coat or finish coat in atmospheric and immersed environments, and it is suitable for properly prepared carbon steel, galvanised steel and concrete substrates.
Typical Marine uses: Designed as an internal tank coating for chemical tanks, including grey water, drilling mud, brine and crude oil tanks.
Typical Protective uses: Recommended as an internal lining for offshore, onshore and buried tanks and pipes.
Made to order in 20 litre packs, minimum order only. 
Please call us to check availability.
Specification
Surface preparation

 

Minimum Sa 2.5

Applicatio

  

Airless spray recommended

Induction time at 23 C

 

30 minutes

Pot life at 23 C

 

8 hours

Surface dry at 23 C

 

3.5 hours

Dried / cured for service at 23° C

    

7 days
Recommend this product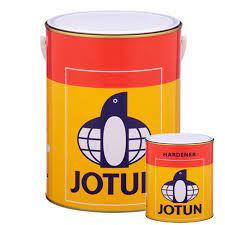 Tankguard HB