Mantus Anchor Swivel
Buy Mantus 2023 Anchor Swivel for Sailing boats at anchor, with free delivery to the UK. 
We sell the full range of Mantus products for the UK, including Mantus anchor swivels, with free delivery and free professional advice on all things anchoring. 


The strongest link – the Mantus anchor swivel is stronger than its corresponding Grade 40 chain. (WLL is 1/5 UBS)
Integrated swivel shackle design completely eliminates side loading, making this the safest anchor swivel on the market.
The pin on the chain side of the swivel is the strength-limiting part since the geometry of the chain determines the pin size. The Mantus anchor swivel and shackle is the first to feature an oblong pin to maximise the pin strength. With the aid of computer modelling and physical testing, we truly created a swivel that is the strongest link.
Note the innovative shackle bolt design – no shackle dog! This slim hex head design (with holes for safety wire) offers a slimmer profile making it easier for translating through your bow roller.
316 L Stainless Steel, Precision Cast and Electro-Polished Body
Pin made from Duplex Stainless Steel and is mechanically polished and electro-polished.
Chain Size (in)




1/4

(6 – 7mm)

5/16

(8mm)

3/8

(10mm)

7/16

(11mm)

1/2

(13mm)

Recommended swivel model for a given chain type and size

Grade 30 Chain

S1

S1

S2

S2

S3

Grade 40 Chain(G4 HT)

S1

S1

S2

S3

S3

Grade 70 Chain

S1

S2

S3

S3

NA
SWIVELS ARE AVAILABLE IN THREE SIZES : S1 – S2 – S3




SWIVEL MODELS

S1

S2

S3




Imperial Chain

1/4 – 5/16

5/16 -3/8

3/8 -1/2




Metric Chain

6mm – 8mm

8mm – 10 mm

11 mm – 13 mm




UBS (Ulitmate Breaking Strength)

15,000 lb/ 6.8 T

21,700 lb/ 9.8 T

35,000 lb/ 16 T

These numbers are used to generate the recommendations below

WLL (Working load limit) (Safety Factor 5)

3000 lb/ 1.5 T

4,340 lb / 2 T

7,000 lb / 3.2 T
View video
Recommend this product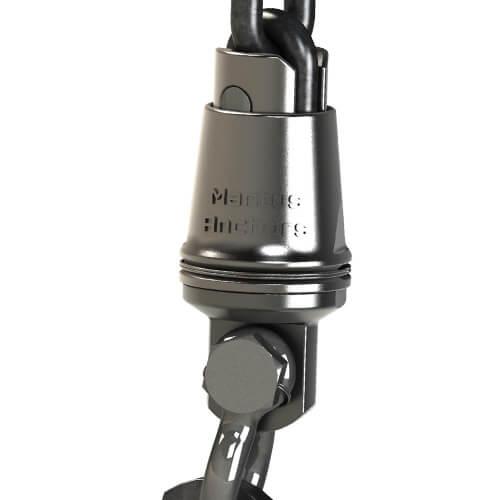 Mantus Anchor Swivel